Accession 200608: Snavely Family Papers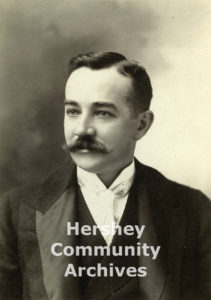 While the Archives is best known for managing the archival records of Milton Hershey's corporations, we also collect and care for the records of many individuals and local organizations. The finding aids for these collections are available online on the Archives' website: Hershey Archives.
These collections contain a wealth of materials documenting many different aspects of Hershey's past.
There are very few materials that shed light on Milton Hershey's early adult years. Milton Hershey spent his early adult years struggling to make a living. While his life and accomplishments are well documented once he achieved business success, little remains to tell the story of those early years.
We are very fortunate that the Snavely Family papers are part of the Archives' collection. This collection includes several letters from Milton Hershey to his Uncle Abraham Snavely, written between 1880 and 1882.
Sometimes personal letters paint a different picture than the one presented in published sources.
In 1894, Lancaster County (PA) published the Portrait and Biographical Record of Lancaster County, Pennsylvania, Containing Biographical Sketches of Prominent and Representative Citizens… Together with Biographies and Portraits of All the Presidents of the United States.
We are not certain who was responsible for researching and writing the brief biography of Milton Hershey. The entry begins with a brief genealogy, since both of his parents were born and raised in Lancaster County. The entry then continues:
In 1876 our subject went to Philadelphia, where he engaged in the manufacture of confectionery, and there continued six years, after which he traveled in different states in the Union, and finally engaged in business in New York as a caramel manufacturer. He deemed it wise to remove his plant to Lancaster, where he has increased his business and employs a large number of men.
If this was the only documentation that existed for Milton Hershey's early business years, we might have a very different understanding of his early life.
Fortunately for the historian, the Snavely Family Papers provides a slightly different view of those early years. As the finding aid notes, the collection is:
Largely comprised of correspondence and land records. The correspondence contains several hand written letters from Milton S. Hershey to his uncle, Abraham B. Snavely, requesting financial assistance.
The letters were written between 1880 and 1882, during the time that Milton Hershey operated a candy shop in Philadelphia. The letters reveal that Milton Hershey's business was struggling at that time, and cash flow was not sufficient to support the business. Hershey turned to his Snavely relatives for financial loans, unfortunately, without much success. You can read more about these struggles here.
Interested in learning more? Visit the Archives and review all of the letters in the collection to gain a better understanding of Milton Hershey's early business struggles.