Bigger and Faster: Hershey Park's Comet Roller Coaster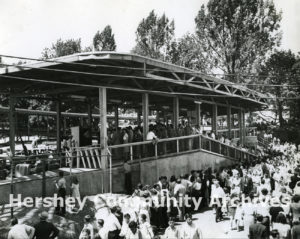 The end of World War II was celebrated at Hershey Park with the addition of a new roller coaster, the Comet. Opening for the 1946 season, the Comet replaced the 1923 Wild Cat roller coaster. Like the park's first coaster, this one was designed and constructed by Herbert Schmeck and the Philadelphia Toboggan Company. One unique feature of this coaster is that it crosses Spring Creek twice during its 3,360 foot journey.
A total of 248,919 feet of lumber was used to build the double out-and-back coaster. The coaster is built so close to town that riders' screams can be heard on Chocolate Avenue. The coaster features a series of drops that curve as they descend on the third and forth runs to create a more exciting ride. The ride's finish is a series of hills or bunny hops with a turnaround to the brake curve and loading station.
Gallery
Click image to view larger
Search Encyclopedia