William E. Dearden, 1922-2003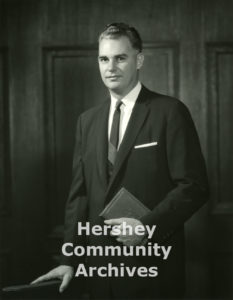 The first time William E. Dearden came to Hershey was in 1935. He was 13 years old and it was the Depression. Dearden's mother had recently died and his father was struggling to care for his three children while he was frequently unemployed. Acting on the advice of a Philadelphia neighbor, his father enrolled Dearden and his brother in Milton Hershey School [then Hershey Industrial School]. The School had a profound effect on Bill Dearden. It provided a loving, stable environment, a good education and future opportunities Dearden never would have thought possible before he entered the School. In return, Dearden spent his entire career attempting to repay his debt of gratitude to Milton Hershey and his school for orphan boys.
Life was not easy at Milton Hershey School. Besides his classwork, homework and extra curricular activities, Dearden was expected to do chores both in the student home and on the school farm, milking cows and working in the fields. Dearden credited his years at the school for teaching him the value of hard work and discipline.
Following graduation, Dearden attended Hershey Junior College for a year before enrolling at Albright College on an athletic scholarship. In 1942 he enlisted in the Navy and attended graduate school at Harvard Business School as part of his military service. Dearden left the Navy in 1946 and joined Dun & Bradstreet, Inc. as a sales representative in Reading, PA. Within a few years he was promoted to Manager of the Trenton, NJ office.
The Navy called him back to active duty in 1951 to serve as Administrative Services Officer at the Mechanicsburg (PA) Naval Supply Depot. During this time Milton Hershey School contacted Dearden to see if he would accept a job as assistant placement director. Dearden accepted. "As a recipient of Mr. Hershey's generosity while a student at the School," he said, "I have always felt that I had a debt I wanted to repay."
In 1957 Hershey Chocolate Corporation offered Dearden the opportunity to work as the assistant to John J. Gallagher, Chairman of the Board. Gallagher was not only Chairman, he also oversaw Hershey Sales. During his first years with the company, Dearden was in the forefront of developing the Company's sales, marketing and advertising programs. But even prior to that he spearheaded Hershey's first efforts in new product development in over a decade. Hershey's Mint Chocolate, Chocolate Covered Candy Coated Almonds, the Chocolate Square line, and the Butterchip Bar were a few of the products introduced under Dearden. The limited success of these products underscored Hershey's desperate need for marketing and advertising programs. During the 1960s CEO Harold Mohler would give Dearden the authority to begin hiring new people to develop these critical functions.
By all accounts Bill Dearden is recognized as the man that got the Chocolate Corporation moving. The changes needed for the Chocolate Corporation's future success were significant. In 1965 the sales division was filled with old-timers who conducted business in the same way as when Milton Hershey was alive. Hershey Chocolate Corporation didn't even have a marketing department. It was well publicized that the company had never used media advertising. Bill Dearden had to build these vital departments from the ground up. To do so, he needed capable and experienced men who were willing to come in and work with existing sales staff, overcome resistance to change and endure setbacks. Key players included John Rawley who started Hershey's first Marketing Research Department and Larry Johns and Bill Suhring (both originally from M&M/Mars). Johns faced the challenge of modernizing the Sales Department and Suhring spearheaded Hershey's early marketing efforts. While these were not easy years, all these men remember fondly the excitement and challenge of waking up Hershey Chocolate Corporation, the "sleeping giant."
There were set backs along the way. Just three years after Hershey Chocolate launched its first national advertising campaign in 1970, soaring inflation forced the company to curtail advertising. It took the company years to recover.
By the time Bill Dearden was appointed CEO in 1976 he had a strong vision for the Company's future. To help move the company forward Dearden created a new corporate staff and acquired and renovated Milton Hershey's mansion, High Point, to serve as the company's new corporate headquarters. One of his first tasks was to develop a Hershey Foods Corporate Strategic Plan. This plan laid out the necessary groundwork for future success. Under his leadership the Corporation grew and diversified, acquiring Y&S Candies in 1977 and Friendly Restaurants and Skinner Macaroni in 1979. Hershey's growing involvement with the International market was formalized with the creation of Hershey International Ltd. in 1981. To meet the growing demand for Hershey/Reese products, the Stuarts Draft manufacturing facility was opened in 1982. Dearden also implemented management succession planning. By the time Bill Dearden retired in 1985, Hershey Chocolate had emerged as the number one confectionery firm in the United States.
During his tenure as CEO, Dearden stood out as a dynamic leader who tolerated no wasted time or motion or effort. He pushed all those that worked for him to give their best. He was a person to whom other people could easily rally. He was a demanding leader but that was balanced by the fact that he demanded as much or more of himself than he did of others.