He Shoots, He Scores!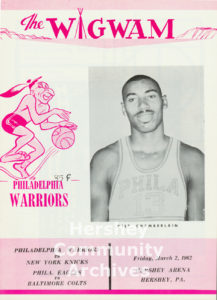 50 years ago today the Philadelphia Warriors played the New York Knickerbockers in a game held in the Hershey Sports Arena. At that game Warrior Wilt Chamberlain scored a record smashing 100 points, an achievement that no basketball player has ever duplicated or even come close.
Little remains of the game, no ticket stubs, no video. Fortunately, however, there are some photos taken by Paul Vathis, an AP photographer who happened to attending the game as a fan and who rushed to his car mid-game to get his camera equipment.
In the Archives' collection, there are copies of the game program and remarkably, a recording of the last 15 minutes of the historic game. The recording was made by an enterprising college student, a Knicks fan, who listened to the game on his AM radio and was inspired to record the broadcast on his reel-to-reel tape recorder.
Read more about this remarkable event in Gary M. Pomerantz's Wilt 1962: The Night of 100 Points and the Dawn of a New Era, Crown Publishing Group, 2005.