Henry Picard: Bringing Prestige to the Hershey Country Club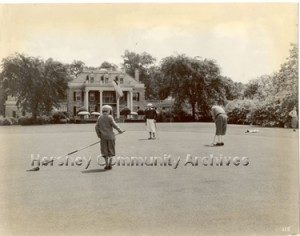 On April 27, 1930 Milton Hershey launched the Hershey Country Club with a dinner party held at his home, High Point, for one hundred of his friends and associates. Mr. Hershey offered High Point for the clubhouse. The new club's golf course was designed by noted golf architect, Maurice McCarthy. The course received high praise from golfers for its challenging fairways and holes.
In 1933 the club established the "Hershey Open," an invitational professional tournament. This tournament brought national attention and prestige to Hershey as a golf destination while the club had had a local golf pro since its opening, after the start of the "Hershey Open," Hershey Country Club needed a more prestigious golfer to come serve as pro.
Henry Picard, who would win the 1939 Masters and 1939 PGA Championship, became the club's head professional on November 1, 1934. Hershey Country Club held a dinner dance to introduce him to the Club on April 27, 1935 (which then was the opening date for the golf season). Picard had played representing the Hershey Country Club through the 1934-1935 winter PGA tour season, but didn't start teaching and living in Hershey until April 1935.
Because of Picard's success, Hershey was considered by some to be the "Golf Capital of America." Picard served as the pro for all of Hershey's courses: the Hershey Country Club, Hershey Park Golf Club, Hotel Hershey Course, and the Juvenile Country Club (the only course at that time specifically for children). At the four golf courses, which were made up of 54 holes, Picard gave golf lessons to youth and adult amateur golfers in between tours. Nicknamed the Hershey "Hurricane," Picard, a 26-time PGA Tour winner, served as pro until 1941, winning 22 of his 26 titles while in Hershey.
In the Spring of 1941 Henry Picard was advised by his doctor to live in a better climate for his health and he moved to Oklahoma City, Oklahoma. To fill his position at Hershey he recommended the up and coming golfer, Ben Hogan, as his successor.
Gallery
Click image to view larger
Search Encyclopedia