Hershey Area Art Association: A Splash of Color in Hershey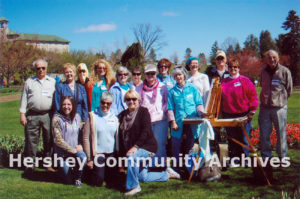 In order to document and preserve the history of the community, Hershey Community Archives actively collects the records of local businesses and organizations. The Archives recently received the records of the Hershey Area Art Association [HAAA].
The records document the history and activities of the HAAA and illustrate how this organization helps to fulfill its goal of providing cultural and artistic opportunities in Hershey and the surrounding area.
The Hershey Area Art Association  held its first meeting on March 20, 1995. The founding members wanted a forum where artists in the community could come together and exchange ideas, enjoy fellowship, and promote fine arts and fine arts education. The association wanted to splash color onto the Hershey community by creating and displaying original pieces of art. Wanting to nurture and support aspiring artists, the association established a scholarship that is offered each year to a local high school graduate to financially assist a young artist heading to college.
The association holds various events, programs, classes, and exhibitions to raise awareness of art within the community. In general, events display original pieces of art created by members. A variety of classes are offered and are designed to teach skills while promoting the enjoyment of creating works of art.
In many ways, the Hershey Area Art Association continues the vision of Milton S. Hershey. In developing his model community, Mr. Hershey provided a variety of cultural and artistic venues, giving residents a chance to experience  cultural events usually only available in larger cities. He established the Hershey Convention Hall and later Hershey Theatre to bring nationally recognized performing artists to the community. Later on, Hershey Educational and Cultural Center was established to provide a wide variety of art-related educational classes.
The Hershey Area Art Association is truly a community treasure and is one that will continue to prosper and grow for years to come.
Gallery
Click image to view larger
Search Encyclopedia