HersheyArchives@30, Part 24: Made in Hershey, So It Must Be Good – H.B. Reese Candy Company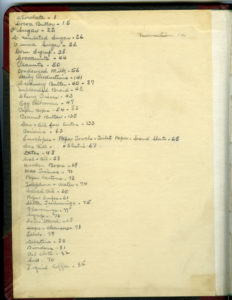 While most confectionery companies regard other candy-making businesses as their competitor, Milton Hershey was different. Hershey Chocolate limited its definition of a confectionery competitor to those businesses that produced solid chocolate bars. In fact, Hershey Chocolate sold chocolate to a wide range of companies manufacturing enrobed, or chocolate-coated, candy.
Harry Burnett "H.B."Reese, a one-time employee of the Hershey Chocolate factory shipping department, was inspired by Milton Hershey's success and decided to start his own candy business.
In 1923, H.B. Reese began making candies in the basement of his home at 18 E. Areba Avenue in Hershey. Reese produced a wide range of confectionery products. During the company's first 20 years, the product line featured a variety of candies made and sold by weight. Most of the candies consisted of different centers that were hand-dipped in chocolate. H.B. Reese's son, Ralph remembered:
We used Hershey's chocolate. I guess we were a nuisance for a while, buying fifty pounds at a time. But I remember the little express wagon I used for hauling papers. [I'd] go down to the [Hershey Chocolate] office and buy fifty pounds of chocolate, haul it back to the house.
The Archives holds a number of ledgers related to the early years of the H.B. Reese Candy Company. The index page of a 1929 ledger lists a variety of ingredients, including cocoanut (coconut), peanuts, butter, raisins, cherry pieces, dates and chocolate. An early employee, Rena Renshaw recalled in a 1993 oral history interview:
I think [until] '41 they made the assortment, maybe about twenty different kinds, sixteen to twenty different kinds of candy. And after the war came along, of course, they couldn't get the coconuts and some of the sugar and butter…[all of]the products that he used in the different kinds of candy.
For many years the number of employees remained small. Renshaw started working for the H.B. Reese Candy Company on September 1, 1926. She remembered:
I got paid twenty cents an hour for the first two weeks, and the next raise we got was twenty-five, about two weeks or so later.
By 1932, she was making 30 cents an hour coating candy centers with chocolate.
H.B. Reese's path to success was not direct. The 1930s were filled with financial ups and downs. In summer months, when it was too hot to work with chocolate, Reese had his employees can beans and tomatoes that he had grown to generate income. Renshaw recalled her summer work at the factory:
I worked in the canning. We snipped beans and we'd put labels on cans. That was when it was too warm and we didn't work in the chocolate. That they did down in the basement in the summertime. Well, of course, when the beans came in, they had to can the beans. We put the labels on the cans by hand. Well, then they canned tomatoes, too. Tomatoes and beans. That was only in the summertime when it was hot. Didn't have air-conditioning then, so it was too hot to make candy.
By the end of the 1930s, the H.B. Reese Candy Company was emerging as a successful candy company. One of the most popular items in its product line was the peanut butter cup. When sugar rationing was imposed during World War II, H.B. Reese made the decision to eliminate every item in the product line except for the peanut butter cup. The peanut butter filling took less sugar than most of the other Reese candy items and peanuts were readily available from southern states.
After the war, Reese continued to build his company based on the success of a single product: Reese's Peanut Butter Cups. Instead of selling the product by weight, peanut butter cups were packaged for retail sale. And every package carried the slogan: "Made in Chocolate Town, So They Must Be Good."
#HersheyArchives@30
Gallery
Click image to view larger
Search Encyclopedia