HersheyArchives@30, Part 3: "I am going to make chocolate."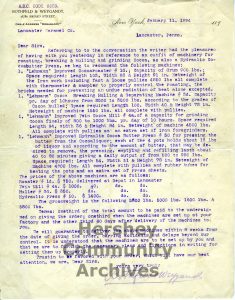 Milton Hershey made his fortune with caramels but he made history with chocolate. In 1893, while attending the Columbian Exposition in Chicago, Hershey told Frank Snavely, "Caramels are a fad but chocolate is permanent. I am going to make chocolate."
Milton Hershey was a reader of newspapers and an astute businessman. The increasing demand for chocolate in the United States would not have escaped his notice. In 1883, the United States imported 9,000,000 pounds of cocoa beans; in 1893, 24,000,000 pounds.
After examining the J. M. Lehmann exhibit of chocolate making machinery at Chicago's 1893 Columbian Exposition, Hershey made up his mind to invest in chocolate. After the exposition closed, two pieces of Lehmann machinery from the exhibit were shipped to Lancaster, Pennsylvania. This document, an order for additional chocolate making machinery, details Hershey's subsequent purchases and signifies the beginning of Hershey manufacturing chocolate in 1894.
The principal machines required to manufacture chocolate are roasters, hullers, mills to crush the beans, melangeurs (chocolate grinding machine) to mix the chocolate paste and sugar, cocoa butter presses to separate cocoa butter from cocoa solids, and steel rollers to refine the chocolate. Having acquired the melangeur and steel roller from the exhibit at the exposition, this purchase of equipment fulfilled Hershey's needs. By 1895, the Hershey Chocolate Company was producing cocoa and semi-sweet or dark chocolate for retail sale.
When Hershey decided to make chocolate, he committed to the idea fully. Comparing the invoice found at the top of this story to a slightly newer (1902) J. M. Lehmann catalog indicates Hershey purchased machinery capable of producing large quantities of chocolate. The purchased roaster had a capacity of 9oo pounds. The local newspaper reported that Hershey's melangeur was the second-largest in the United States, second only to one used by Walter Baker & Company. From the start, Hershey intended to transform and dominate the chocolate market in the United States.