Looking for Something to Do? Hershey's YMCA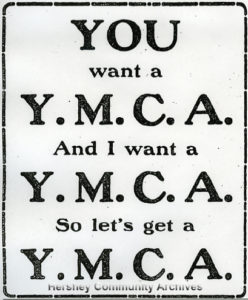 Providing opportunities for recreation and continuing education has always been an important part of the Hershey community. Today those opportunities are provided by a number of organizations, including the Hershey Public Library, Derry Township Parks and Recreation, The M.S. Hershey Foundation and community groups such as the Hershey Figure Skating Club, Hershey Symphony Orchestra and the Hershey Community Chorus, just to name a few.
Milton Hershey knew that in order for his new community to thrive, the workers and residents needed opportunities to exercise their bodies and their minds when they were not at work or school. He encouraged residents to establish a variety of clubs and organizations to provide those opportunities.
The Young Men's Christian Association began in the mid-19th century as a reaction to the challenges young single men living apart from their families faced. By the turn of the 20th century, the YMCA had grown into an organization that offered men, single and married, a variety of programs to nurture their bodies and their minds. In addition, most YMCAs offered lodging, continuing education courses and reading rooms.
Hershey was only a few years old when plans to establish a YMCA were announced   The Hershey Press and its editor, C.S.Gee, were strong advocates for the new organization.
Editor Gee published almost weekly articles on the Press' front page promoting the new organization. On December 17, 1909, a list of men in support of establishing a "Y" was published in the paper.
The "Y" was officially established on Tuesday, January 18, 1910. The Cocoa House was designated as its headquarters. Plans were soon announced that a new gymnasium and indoor swimming pool would be built behind the Cocoa House. Completed by the end of the year, the new addition enabled the YMCA to offer a wide range of services, including a variety of sports (teams and classes), a reading room, boarding rooms for single men. Since the Hershey Trust Company was also located in the building, the Cocoa House was a center for community activity.
While the Hershey Y.M.C.A. programs were popular locally, the club's relations with the national organization became strained over time. By 1913, Hershey resented many of the national organization's rules, including restrictions on who could vote and the minimum age for membership. Hershey decided to break its ties to the national organization and in October 1913, the "Y" was renamed the Hershey Men's Club.
Gallery
Click image to view larger
Search Encyclopedia