Milton Hershey and the Derry Township Public Schools
Introduction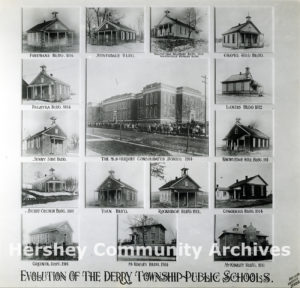 Derry Township's economy before Milton Hershey returned to build his chocolate factory was primarily agricultural, supplemented by a small group of commercial businesses, ranging from grain mills to stone quarries. Milton Hershey had a profound impact on the region. When he broke ground on March 2, 1903 for his new chocolate factory, he also was making plans to build a model industrial town for his workers. Milton Hershey desired to build a town that was both functional and attractive. His plan was well thought out. Plans for the town included comfortable, well-built housing, a wide array of services including utilities, good roads, phone service, clean water and public transportation to provide a sense of freedom for his workers. Just as important were his provisions to educate his workers' families.
While Milton Hershey is best known for the establishment and funding of Milton Hershey School, during his lifetime Milton Hershey supported public education in Derry Township with both financial and structural gifts. His support continued after his death with trust funds created to support educational opportunities in Hershey and to help defray the cost of public education.
One Room Schools: 19th century education in Derry Township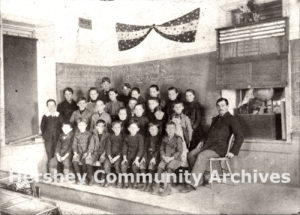 One room schools in rural Pennsylvania were often poorly ventilated, badly equipped, over crowded and noisy. Attendance was poor. Children were often kept home to work in the field or barn, especially at planting and harvest time. The school year was short, often just three or four months in length. Teachers were poorly paid. In 1865 Henry Moyer, a teacher for Rock Ridge School, received $18 a month.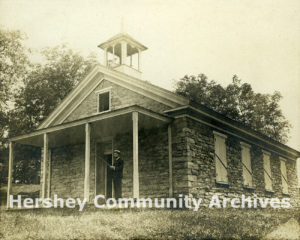 Milton Hershey attended 3 different schools while his family lived in Derry Township:
Derry Church School (1863-1864)
Greiner School (1864-1865)
Rock Ridge School (1865-1866)
Those schools were part of the thirteen (13) one-room schools operated by Derry Township School District:
Derry Church School
Foreman's School
Palmyra School
Sunny Side School
Greiner School
Stoverdale School
Waltonville School
Vian School
Rock Ridge School
Gravel Hill School
Landis School
Knowledge Hill School
Gingrich School
Derry Township School Board boasted that their schools were kept open longer than in most districts. State law mandated that the school term be four months long. The average among the Derry Township schools was six months. However, there was no enforced attendance.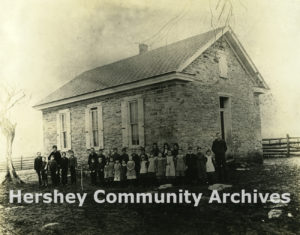 A New Chapter: Hershey, Pennsylvania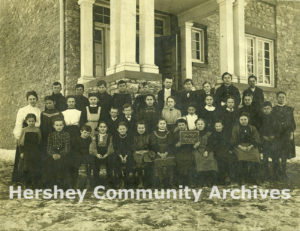 It has been said that the town of Hershey offers the fullest and frankest portrait of Milton Hershey. In it is evidence of his business acumen, his liberal views on religion, his regrets for his own lost schooling, his love of beauty, his humanitarianism, and especially his compassion for children.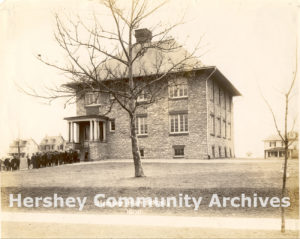 From the start, providing good schools was one of Milton Hershey's primary concerns, and it remained so to the end of his life. With Milton Hershey's encouragement, Derry Township School Board voted to build a high school in May 1904. Milton Hershey supported the School District by donating land and five hundred dollars. The one-room Greiner School, located at the corner of Cocoa and Chocolate Avenues, was torn down, and in June 1904 the cellar was dug for a new school building. It was completed a year later. Named McKinley School, it was a two story limestone building that replaced four one-room schools in the area. Its construction enabled the School District to organize a township high school. Unlike one-room school buildings of the era, McKinley School had hot air heating, electric light, running water and indoor plumbing.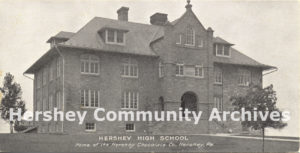 Derry Township's one room schools began to close as students transferred to McKinley School and Hershey's expanded educational program. As the town grew, McKinley School was enlarged in 1911 to accommodate the growing student body. 200 children attended the McKinley School in 1910, including 49 students enrolled in the High School.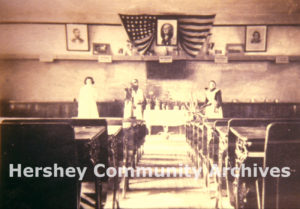 Growing Pains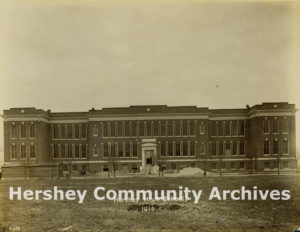 Hershey celebrated its 10th anniversary in 1913. The town was growing rapidly. The student enrollment grew just as quickly. Between 1910 and 1914, the number of students registered grew from 200 to almost 600 students. In response to this rapid growth, Milton Hershey built and donated a large building for a centralized school program. All thirteen of Derry Township's one-room schools were finally consolidated. Students were transferred to the M.S. Hershey Consolidated School. The Consolidated School System offered rural districts the opportunity to provide expanded curricula and healthier and more efficient facilities.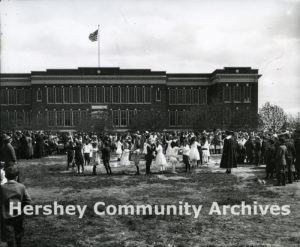 M.S. Hershey Consolidated School was dedicated on October 13, 1914. John Snyder, chair of the dedication committee, spoke: "This is more than a dedication of a building; it is the dedication of an idea. Derry Township is doing today what will be done tomorrow, the combination of small and isolated schools in to a large central education institution."
M.S. Hershey Consolidated School offered education for grades 1-12. The building had 18 class rooms on three floors, a kindergarten, library, bathrooms, playrooms and lunch rooms. The building was designed to serve up to 850 students. The faculty numbered 18. Manual training was an important part of Hershey's curriculum. Carpentry, Drafting and the Mechanical Arts were part of every boy's education. Home Economics was an important part of every girl's curriculum. Sewing, cooking, baking and managing a home were taught.
Growth of the School District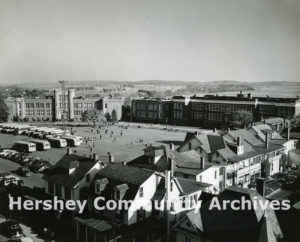 The student population continued to grow and Hershey built another new school building, the Hershey Junior-Senior High School, in 1925. The Junior-Senior High School had three stories, with three wings. It contained 20 classrooms, an auditorium with a balcony (and 625 seats), a cafeteria and several manual training departments. Milton Hershey's belief in the value of learning a trade eventually led to the 1929 addition of the Hershey Vocational School. Each building, fully furnished, was financed by Milton Hershey and then donated to the School District. Hershey Vocational School taught vocational skills to both boys and girls. Boys could study in the following programs: Agriculture, Carpentry, Drafting, Electricity, Machine Shop, Plumbing, Printing and Sheet Metal. Girls were offered Home Economics, Short-hand, and Typing.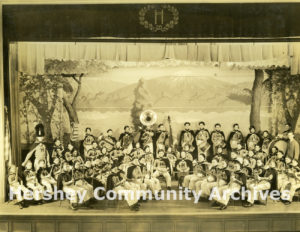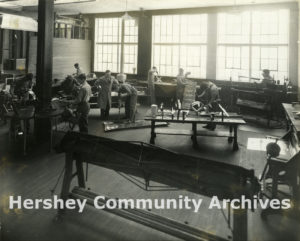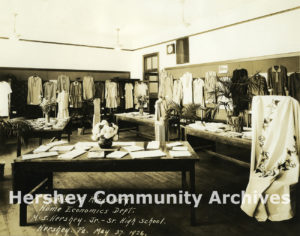 Expansion Continues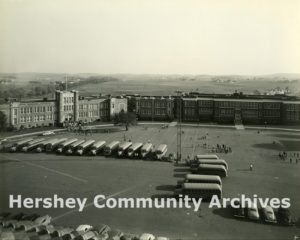 By the 1930s Milton Hershey realized that a high school education soon might not be enough to guarantee success. In 1935 he established The M.S. Hershey Foundation. Its purpose was to provide educational and cultural opportunities for the citizens of Derry Township. Initially the funds generated by the Foundation Trust were used to defray some of the expenses of the Derry Township Public Schools.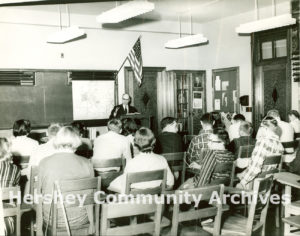 In 1938, three years after the Foundation was established, the Hershey Junior College opened, offering tuition free higher education to all Derry Township residents and employees of the Hershey corporations. Funded by The M.S. Hershey Foundation and administered by the Derry Township School District, the College was a boon to local residents, providing two years of free college education. The College operated out of the Community Building. It had 13 classrooms and used other facilities in the building such as the gymnasium and the Public Library. Hershey Junior College offered three courses of study: General Academic, Business, and Industrial. Classes were held in both day and evening schools. Between 1938 and 1965 when it closed, 1271 students were graduated from the Hershey Junior College. Its closing was due to rising costs, an inadequate facility and the establishment of the Harrisburg Area Community College.
Milton Hershey's enduring concern for education in Derry Township was apparent even in his death. When he died in 1945, his will directed that his estate should be used to establish a trust fund benefiting the public schools. His wish was that the income from this trust fund be used by the School District to help defray school taxes and the financial burden of maintaining quality public education in Derry Township. Today the income from Milton Hershey's last bequest continues to help fund public education in Hershey.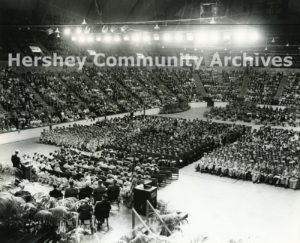 Gallery
Click image to view larger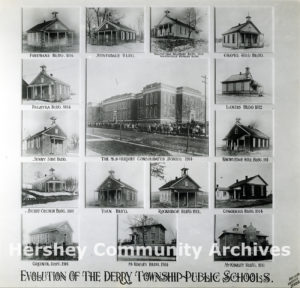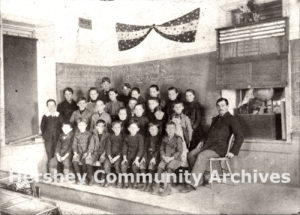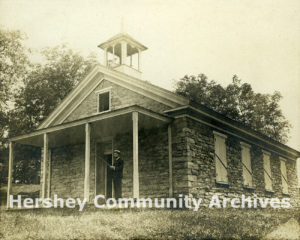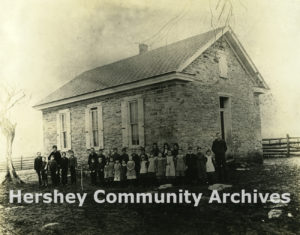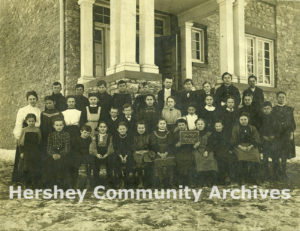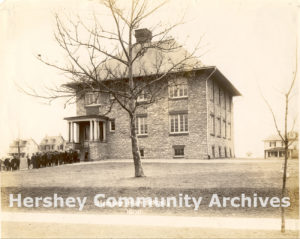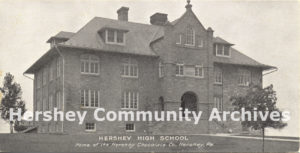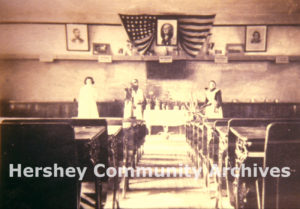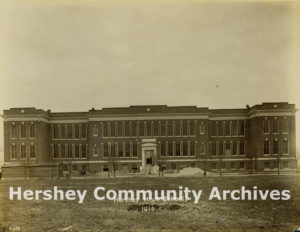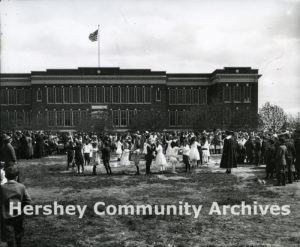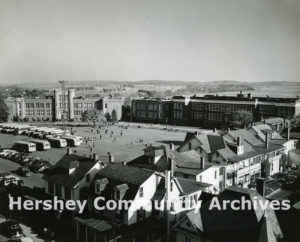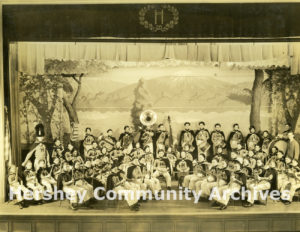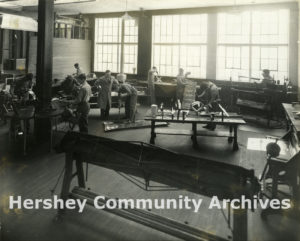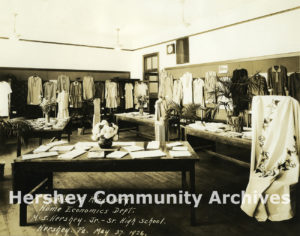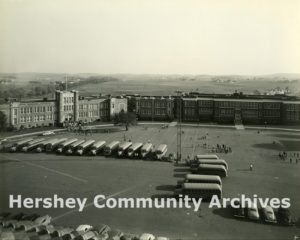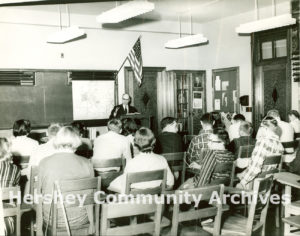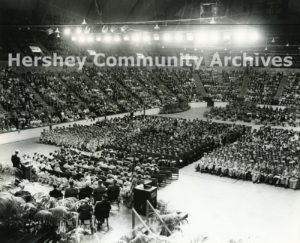 Search Encyclopedia
Tags