Protecting the Town: Hershey Volunteer Fire Company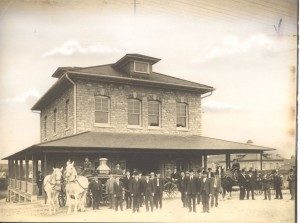 The need for a variety of town services became apparent shortly after the Hershey Chocolate factory began operating in the summer of 1905. Hershey Volunteer Fire Company, our community's oldest service organization, was first organized in August 1905 with Frank Snavely serving as the first president and Charles V. Glynn as the first fire chief. The volunteers soon began responding to calls. The first call came in December 1905 to a fire at John Moyer's Derry Church residence. The organization was officially chartered in 1907. At that time there were 73 members, including Milton Hershey. Throughout his life he was an advocate for the Fire Company and personally supported the organization with financial donations and by purchasing fire trucks and equipment.
The first fire house was located on Chocolate Avenue, just west of the Chocolate factory. At first the organization was as much a social club as a service organization. As the town grew and new organizations started, the Fire Company focused more of its energy on providing the best possible service to the community. As the town grew and technology improved, the Fire Company needed to upgrade its fire fighting equipment. A new Packard pumper was purchased in 1921 and in 1926 a Selden Buffalo pumper was acquired. With the addition of this new equipment, the fire hall was too small for the Fire Company needs.
In 1927 Milton Hershey responded to the need for the new fire house by donating a piece of land on W. Caracas Avenue, just off Cocoa Avenue as well as $5,000 towards construction costs. Work on the $15,000 building began on January 10, 1928. It was completed in June that same year. Formal dedication ceremonies for the station were held on June 23, 1928. The festivities began with a parade followed by the dedication ceremony. A evening dance and carnival concluded the day long celebration. Today this building is the center part of the current fire station.
Gallery
Click image to view larger
Search Encyclopedia