Riding the Rails: Hershey Park's Miniature Railway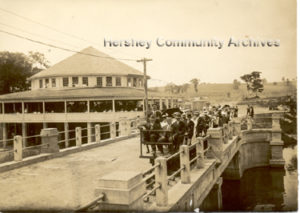 When Hershey Park first began operating, it was a community park with picnic tables, playgrounds for children, ball fields, a bandstand, a small concession stand and a pavilion that was used for vaudeville style performances, dances and other events.  Visitors came to enjoy a picnic, stroll the paths along Spring Creek, listen to a band concert and perhaps take in a baseball game.
Hershey Park's first amusement ride, a second-hand merry-go-round was installed in 1908. The following year, the park continued to expand with a new amphitheatre with seating for 2000. Hershey Park was quickly emerging as a summer destination.
Milton Hershey purchased a miniature electric railway for the 1910 Park season.  Problems with installation delayed its opening until September 5, 1910. The 22-inch gauge railway was built by the Lancaster Iron Works, Lancaster, Pennsylvania. At the time it was built, the little one-of-a-kind railway was considered a technological achievement.
The ride connected the ends of the Park. The train line started at the intersection of Park Avenue and Park Boulevard and traveled around the edge of the park ending by Hershey Park's ballfield. The train line had no loop so the line had only one train. The cars could carry up to thirty passengers and the seats had movable backs so that passengers would always travel facing forward. The fare was five cents for a one way ride. People enjoyed the ride because it was more than an amusement ride, it was a fun way of traveling to a variety of Park attractions.
By 1913 the ride passed by the carrousel, the Hershey Ballroom, and the boating pond.  In later years, passengers could disembark at the entrance to the Hershey Park swimming pool and sunken gardens.
The miniature railway was dismantled after the 1971 season. That year, Hershey began a multi-year project to modernize the park as a themed amusement park. In 1971, a fence went up surrounding park rides and attractions but most of the miniature railway continued to operate outside of the fence. While Hersheypark initially planned to relocate the railway inside the park grounds, those plans were never realized.
For more information about the Miniature Railway, read Technology Meets Entertainment: Remembering the Hershey Park Miniature Railway, by Ron Rhoads, Jr. 2007. A copy is available in the Archives' library.
Gallery
Click image to view larger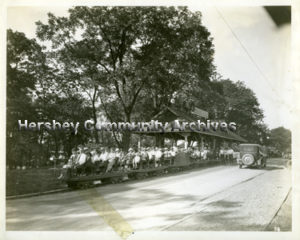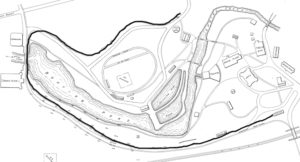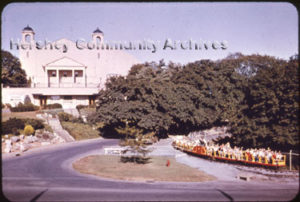 Search Encyclopedia