Ringing in the Holidays: Hershey's Kisses Chocolates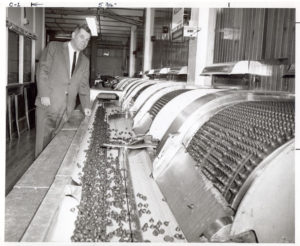 In 1989 John Dunn was Hershey Chocolate brands manager for Kisses. Hershey was working on a new marketing campaign for Kisses, sometimes referred to as the Kisses "whimsy" campaign. Working with Ogilvy Mather, a series of animated Kisses commercials were planned utilizing tabletop stop-motion animation and CG product photography.
Ogilvy Mather was the agency of record for the Hershey's Kisses brand and David Apicella, was the Creative Director who discovered and contracted the production company, Colossal Pictures in San Francisco to produce the commercials. Carl Willat served as Director for the commercials, and he and Gordon Clark creatively performed the animation that brought this campaign to life.
John Dunn traveled to San Francisco to oversee the development of the commercials. John remembered that there was still time left when the planned Kisses commercials were completed and he asked Carl Willat and Gordon Clark to develop a holiday commercial for Kisses. Even though he didn't have authorization to create this commercial, John felt confident that he could sell it to his boss.
The creative idea of Kisses performing as hand bells in a bell-choir fashion was developed to play "We Wish You a Merry Christmas". To reinforce the whimsy and innocence of the brand identity, John suggested the idea of having one of the Kisses franticly ringing at the end of the commercial where the Kiss expresses great relief by wiping its brow with the plume when the song concluded.
The commercial quickly became an iconic success. It has aired each holiday season since 1989, "ringing" in the holiday season of good cheer. It has become the longest running Hershey's product commercial.