John B. Sollenberger, 1897-1967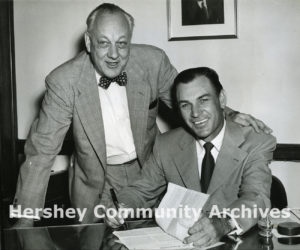 When Milton Hershey reorganized his businesses in 1927, he placed all his non-chocolate businesses in a new company, Hershey Estates. Hershey Estates was charged with managing the town and running all the recreational and tourist-oriented attractions. From 1949 to 1962 John B. Sollenberger served as President of Hershey Estates as well as General Manager for all of Hershey's attractions, a role he officially assumed in 1936. Sollenberger's impact on the development and growth of Hershey as a destination was significant and far-reaching. Many of the programs he initiated are still part of Hershey today.
John B. Sollenberger was born June 13, 1887 on a farm in Silver Springs Township, Cumberland County. When he was 16 he enrolled in the Harrisburg School of Commerce for a 2 year course of study in business and stenography. His stenographic skills led to his first job working for the school's owner in a traveling stenography demonstration that was offered in regional high schools. Sollenberger's skill plus a good memory enabled him to appear to take high speed dictation, often at rates approaching 250 words per minute. In many ways the demonstrations were theater and gave him his first experience with theatrical production.
Sollenberger's stenographic skills led to his next job with Hershey. He was hired as a clerk for the Hershey Improvement Company and began work February 23, 1914 when he was only 17 years old. While he initially began reading electric meters and writing out the bills by hand, his stenography skills soon led to additional duties. In April 1914 he was moved to the Hershey Trust Company building. In addition to his clerking duties, Sollenberger and other young clerks often were assigned other tasks. Lebby Lebkicher, a close associate of Milton Hershey's, felt responsible for Mr. Hershey's mother, Fanny Hershey. He directed Sollenberger and the other clerks to go to the train station and personally pick up Mother Hershey's daily newspaper and deliver it to her. The task carried with it some perks. Fanny Hershey would occasionally give the deliverer a bag of unwrapped kisses as a thank you.
Sollenberger's involvement with bringing entertainment to the Hershey area began years before his formal promotion to Hershey Park. In 1918 Sollenberger partnered with another Hershey employee, George Gerth, to open motion picture theaters in Hummelstown and Palmyra. These theaters operated until 1928 when Sollenberger needed to focus more attention on his Hershey responsibilities. Hershey's own movie theater had opened in the old McKinley School building in 1914.
It is probable that JB; was involved with the Park prior to his promotion as Assistant General Manager under Charles Ziegler. There are several stories about his booking famous performers prior to 1925. While those stories are not verifiable, they reflect Sollenberger's reputation and skill bringing the nation's top performers to Hershey. His skill in recognizing talent and his willingness to take risks in bringing talent to Hershey helped make Hershey a major performance venue. Those skills were evident in the story behind crooner Rudy Vallee's first performance in Hershey Ballroom.
Typically Hershey Ballroom paid $250-300 to bands who played Saturday nights. In 1929 Hershey had the chance to book Rudy Vallee, a national celebrity, for a Saturday night gig in the Ballroom. The fee was $3500 and newly promoted Park Manager JB Sollenberger and his boss, Charles Ziegler, needed the permission of Milton Hershey to pay such an exorbitant fee. Milton Hershey was reluctant and initially turned them down. Ziegler and Sollenberger next asked permission to rent the Ballroom and book Vallee themselves. In the face of this proposal Milton Hershey suggested that he could more easily afford the financial risk and agree to booking Vallee. Rudy Vallee's appearance was a huge success and helped build Sollenberger's reputation as someone knowledgeable about the entertainment industry.
Sollenberger's skills and ability to spot trends in entertainment helped him build Hershey as major destination. While his responsibilities were first focused on the Park, he soon assumed responsibility for all of Hershey's entertainment venues. Sollenberger envisioned and led the development of Hershey as a destination. In 1928 he was promoted to General Manager for Hershey Park. The following year Hershey broke ground the Community Building and Theatre and Milton Hershey asked Sollenberger to oversee the development of programming for the facility.
Sollenberger interests were far reaching. He is credited with bringing hockey to Hershey. In 1931 he had the Convention Hall converted into an ice palace and convinced two amateur ice hockey teams, Villanova College and the Penn Athletic Club, to come to Hershey and play an exhibition game. The immediate popularity of the sport led to Hershey fielding its own team the following year. Sollenberger played a pivotal role in the sport, helping to establish a serious amateur hockey league (culminating with the American Hockey League)  and serving as general manager for Hershey's hockey team 1932-1949.
Hockey was Sollenberger's first love, but it wasn't his only interest. He oversaw the development of Hershey as a golfing destination. He served as the General Manager for the Hershey Country Club and also managed the construction of Hershey's three other courses: Parkview, Juvenile and the Hotel Hershey executive course. It was under his leadership that the Hershey Open golf tournament (1931-1941) was established.
At the same time Sollenberger oversaw programming at the Hershey Theatre, Hershey Park venues (including the amphitheatre and the band shell), the Hershey Arena and the Stadium. He was responsible for bringing some of the biggest names in entertainment to Hershey: Fred Waring, Victor Borge, Sonja Henie, Tallulah Bankhead  and Eleanor Holm all knew Sollenberger as JB. There really was no limit to his interests and knowledge of the varied facets of entertainment.
In sports, Sollenberger sought out successful athletes and brought them to Hershey as performers and employees. Golf professionals Henry Picard and Ben Hogan were hired by Sollenberger, bringing national attention and stature to Hershey's golf program. For Hershey's hockey club, Sollenberger signed former NHL Bruin player, Herb Mitchell, as the Bear's coach in 1934. He later convinced Frank Mathers to come as the Bears head coach in 1956. Sollenberger's ability to recognize talent resulted in Mathers leading the Bears to three Calder Cup victories between 1958 and 1969.
His interest in ice sports led him to book 3-time Olympic Figure Skating Champion Sonja Henie to perform at the Hershey Sports Arena between periods of its inaugural hockey game. Later Sollenberger hired skating sensation Evelyn Chandler as the Arena's Figure Skating Professional.
Because of Milton Hershey's interest in developing the town as a destination, JB Sollenberger had frequent contact with his boss. In a 1955 interview Sollenberger reflected on Milton Hershey's vision and approach to developing the town as a destination:
[Milton Hershey] tried to invest the money in the future of the community, and in a way that the whole community would benefit and enjoy. I heard him say many times he never went nuts on any one thing; but liked a little music and a little sport, etc. He did not seem to be interested in getting a yacht and country house and houses; that would not generate happiness for the people in the community.
Even after Sollenberger was promoted to President of Hershey Estates he continued to directly manage Hershey's entertainment venues. Sollenberger simply assumed additional responsibilities for Hershey Estates' other functions including the management of all the utility companies. A few years later he was made President of the Hershey Trust Company (1956) and then President of the Hershey Bank (1957), all positions he held until his retirement in June, 1962.
While Sollenberger's work responsibilities were significant, he followed Milton Hershey's lead in giving back to the community. He was a charter member of the Hershey Rotary Club, serving as its first president. He was active with the Boy Scouts, serving on the Executive Board of the Keystone Council. His many contributions to the Scouts were recognized when he was awarded the Silver Beaver. He was the co-founder of the Big 33 Football game, matching the best football players of Ohio and Pennsylvania, a game that continues today. He played an important role serving on the planning committee for Holy Spirit Hospital and was active with the Republican Party, serving as a delegate to the 1964 Republican National Convention held in San Francisco.
For his many contributions to sports Sollenberger was recognized in a variety of ways. When Pennsylvania established its Sports Hall of Fame, Sollenberger was named its first president. His contributions to hockey led to naming the AHL award to the season's leading scorer the John B. Sollenberger Trophy.