The Man Behind the Myth: Milton S. Hershey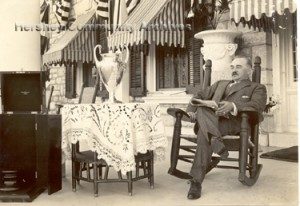 The Archives oral history collection provides insight into many aspects of the Hershey community: work, homelife, recreation, education. Many of the interviews also contain personal memories of Milton Hershey. Milton Hershey is well honored for his many accomplishments and his generous spirit. The oral histories help us to better understand the man behind the honored name.
In 1920, when he was three years old, Earl Houser moved to Hershey with his family. The family lived on East Derry Road, across the street from the Derry Presbyterian Church. In his interview he discusses growing up in on Derry Road and its proximity to Milton Hershey's home, High Point.
Interview transcript:
Houser: [Milton Hershey] had two beautiful ponds to the northwest of the mansion down in the hollow… Down in the hollow there, there were two big beautiful ponds that he had landscaped, fed by a spring. And he stocked it with trout.

Houser: Age six. That's when I started fishing. When I lived on Derry Road and lived where Nagle's store is now, next door to us, toward the railroad, there was a general store, and right in the heart of that building was a shoemaker shop run by a fellow by the name of Lloyd Achenbach. He was a fisherman, and he'd take me along fishing. We'd get down to Spring Creek, but we didn't fish on the ponds. Well, as I grew a little older, the temptation to catch these trout became overwhelming, and three other now-highly-respected people in town–

Houser: No, I won't identify them. We would sally forth into these ponds, and Mr. Hershey would see us, and he'd come out on that front porch and he would lay everything upon us that he possibly could, including murder. He would always call the constable, and he'd threaten us with this, that we were going to go to jail for the rest of our natural and unnatural life. So he lived up to his threat, and we could hear the Model T coming.

Question: They had one constable in town?

Houser: Yes. It was a very small place in those days, less than 3,000 people. So anyhow, at the edge of the cliff that faces the factory of the mansion grounds, it was all full of honeysuckles and there was a cave there. So we'd hear this Model T coming, and we knew who it was. It was George Lafferty, who was the constable. We'd reel in our lines and carry our fish and zoom into the cave. He could never catch us. He would be threatening us with everything under the sun, too, all kinds of penalties. So when he'd leave, ZOOM! Back to catching fish. So that was my first contact with Mr. Hershey. It's a good thing that he never knew who he was yelling at, or my career would have been considerably different, I'm afraid.
The entire transcript of Earl Houser's interview can be found in the Archives' collection.