The Pedestrian Tunnel Opens, Finally!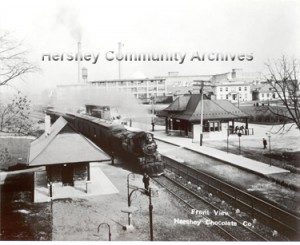 If you live in or near Hershey, you are aware that downtown Hershey has been under construction for for the last couple years. There are several projects going on: straightening the intersection of Cocoa and Chocolate Avenues, building a new bridge over the railroad tracks (to replace a bridge that was built over 100 years ago), and building two pedestrian tunnels: one under Chocolate Avenue and the other under Park Avenue by the entrance to ZooAmerica.
This is not the first time Hershey has built a pedestrian tunnel to improve safety.
Years ago, when people rode trains to get to Hershey and locals took the train to Harrisburg and Philadelphia, there was quite a bit of foot traffic to get to one side of the train tracks or the other. If you arrived at Hershey via a westbound train and wanted to get to Chocolate Avenue, the factory, or the Department Store, you would have to walk over the railroad bridge on your way to Chocolate Avenue. After a day at Hershey Park, to get to the south side tracks for trains traveling east, travelers had to walk over the railroad bridge and then over to the passenger station.
When it was snowing or icy, this inconvenient route became dangerous. The steep rise of the bridge made walking challenging. In bad weather the footpath over the bridge was often slippery with ice and snow. By 1912 residents and visitors were clamoring for a easier, safer way for pedestrians to cross the train tracks.
As part of Hershey's planning for its 10th anniversary in 1913, a decision was made to build a pedestrian tunnel under the railroad tracks. The Hershey Press carried news of plans for a new tunnel.
Construction did not go smoothly. In late April 1913, heavy rains caused two cave-ins and delayed the tunnel opening. It was not ready in time for the Community's 10th anniversary celebration. It finally opened in early July 1913.
Gallery
Click image to view larger
Search Encyclopedia