A Bird's Eye View: Hershey's Monorail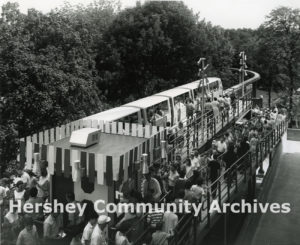 This weekend is exceptionally busy in Hershey. The band, One Direction, has brought thousands to Hershey. Between the band and Hershey's regular high volume numbers of visitors during the summer season, the roads are jammed! This is nothing new for Hershey. Every summer residents resign themselves to heavy traffic caused by tourists drawn to Hershey and its many amenities. Back in the 1960s, Hershey tried to address the challenge of summer traffic.
By the late 1960s, traffic on Chocolate Avenue during the summer months was overwhelming. Tourists wanting to tour the Chocolate Factory and visit the Park often created traffic jams. Downtown parking was limited. To ease congestion Hershey Estates and Hershey Chocolate Corporation agreed share the costs of constructing a Monorail that would link Hershey Park and downtown Hershey.
The route chosen highlighted attractions at the Park, Zoo and provided a bird'e eye view of downtown. The route was designed to be convenient to community residents as well as visitors. There were two stations, one by the Sports Arena and one at the north end of the building at One Chocolate Building. People could board the train at either station.
Pennsylvania Secretary of Commerce, Robert M. Mumma, and Trudy Pedersen, Miss Pennsylvania, 1969, cut the ribbon at the June 20, 1969 dedication ceremony. The monorail operated during the peak tourist season and the ride cost $.50. The monorail continued to operate as a separate attraction until 1973 when the factory tours ended. The ride was incorporated into the new Hersheypark as a scenic ride.