Roses for the Queen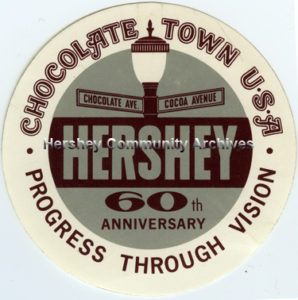 1963 was filled with special events. The community celebrated its 60th anniversary with new attractions like Highmeadow Campground (now Hersheypark Camping Resort), new streetlights in the shape of Hershey's Kisses, parades and an Anniversary Rose Queen.
Hershey had started the tradition of selecting a rose queen in 1953, as part of its 50th anniversary celebration. That year, preliminary contests were held throughout Pennsylvania. The final competition was held in the Arena.
As part of the 60th anniversary celebration, Hershey again crowned a Rose Queen.
The 1963 competition was a much more local event, with all the candidates selected from students at Hershey Junior College and Hershey High School. The competition was held at Hershey Rose Garden on May 5. Peggy Evans, a Hershey Junior College freshman was selected Queen in time to reign over the community's 60th anniversary events, beginning with the Tulip Garden festival.
The May 16, 1963 article in the Hershey Press noted that the contestants were judged on personality, charm, poise, grace, pleasantness of voice, good English diction, carriage, congeniality, beauty and ability to create a picture of good taste. Quite a list of attributes!
First runner up in the contest was Suzanne Hershey, a Hershey High School senior, and second runner up was Maryanne Nemcovsky, a Hershey Junior College sophomore. The Queen's court also included Marilyn Buck, Patricia Horst, Sally Kindt, Karen Naylor and Nancy DeAngelis.
Gallery
Click image to view larger
Search Encyclopedia