A Home for Community Theater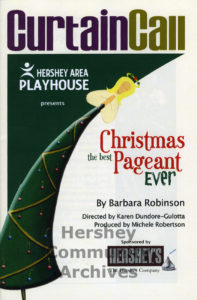 Last weekend Hershey Area Playhouse closed another successful run of The Best Christmas Pageant Ever. The play has been a seasonal staple at the Playhouse since 2008, delighting audiences with its holiday themed story and positive message.
In 1999, the Hershey Area Playhouse (HAP) was founded by local residents who wished to bring community theater back to the Hershey area after a thirty year absence. The first production, Barefoot in the Park, was performed in October of 1999. Since then there have been approximately three to five performances per season. HAP strives to produces a variety of theatrical offerings: classical and original theatrical plays, musicals, as well as cabaret nights. In its early years the Playhouse productions were presented in a variety of community venues including Country Meadows, Lower Dauphin High School and even Hersheypark during its off season.
The early success of the Playhouse led to a campaign to find a permanent home for the Playhouse. Prior to the construction of a permanent theater at Country Meadows performances were held in numerous locations. The new theater was completed in 2007.
Hershey Area Playhouse has been placing its records in the Hershey Community Archives since 2004. The collection records document the performances and events produced by the Playhouse since its beginning. Currently, the records span the years 1998 to 2009. Largely comprised of photographs and programs, the collection also includes audio visual recordings of the performances, correspondence, newsletters, posters, and scrapbooks. The earliest records document initial efforts to establish the theater. The scrapbooks contain photographs, programs, newspaper clippings, press releases, and other ephemera documenting performances and events. To learn more about the collection and view a complete finding aid visit the Archives' website and its online collections database.
Gallery
Click image to view larger
Search Encyclopedia