Advertising Hershey Chocolate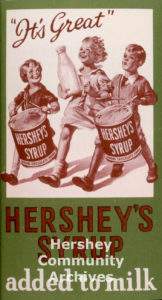 One of the great myths in the advertising industry is that Hershey Chocolate did not begin advertising until 1970. Although the Corporation generally did not use consumer media advertising such as newspaper and magazine ads, or radio and television commercials, it did employ a variety of techniques to publicize itself.
Hershey Chocolate used its advertising dollars to promote its products to the stores and outlets that would sell Hershey's products. Hershey also believed in advertising its products where consumers could purchase them and created elaborate and often whimsical store window sets and in-store product displays that featured product in bountiful arrangements.
In addition to store and window displays, it published a variety of educational pamphlets and other materials that described the process of making milk chocolate and promoted the company. The very first pamphlets appeared a few years after the factory began operations. These pamphlets promoted the town and linked the success of the company with the model industrial town.
Hershey Chocolate Company published cooking pamphlets beginning about 1915 as a way to promote the use of its products and introduced its first cookbook about 1922. One of the most far reaching advertising techniques Hershey employed was creating and inserting specially sized postcards, in standard-sized milk chocolate bars to promote the company and the town. The postcards showed scenes of factory operations, diary farms that illustrated milk chocolate wholesome ingredients, and attractive view of Milton Hershey's model town. These postcards were distributed nationally and found their way around the world. In the Archives collections you can find postcards with postmarks from China, Alaska, Mexico and France.
The desire to promote the company and the town eventually led to Hershey Chocolate Corporation to underwrite the production of a series of movies that promoted the products and the town. In 1932 the company produced a 48-minute educational film that described chocolate production and the model town made possible by the success of Hershey's milk chocolate. This film was shown primarily in schools. The following year two films were produced: "Seeing Wonders," a movie short promoted Hershey as a travel destination and the "Chocolatetown Review," another short film that featured Hershey Chocolate products as marionettes in a vaudeville style show. Both of these films would have been seen as "shorts" shown in movie theaters before the feature film.  World War II and the death of Milton Hershey in 1945 ended the company's exploration of new advertising techniques.
Gallery
Click image to view larger
Search Encyclopedia