A Palace for Hershey: Hotel Hershey Opens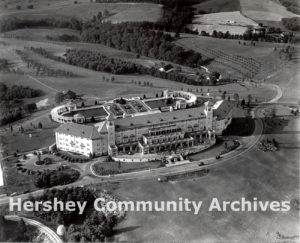 A Palace that outpalaces the palaces of the Maharajas of India
– Lowell Thomas, 1933
Building a hotel on Pat's Hill had been a dream of Milton Hershey since 1909. At first, he and his wife, Kitty, thought they would build a grand structure modeled on The Heliopolis, a Cairo, Egypt  resort. That dream was never realized and by the time the Hotel Hershey was actually built in 1933, Milton Hershey's tastes had changed.
Hotel Hershey was modeled on another hotel he and his wife had enjoyed. Located along the Mediterranean, the inspiration hotel was small, only 30-rooms. Milton Hershey's builder/architect, D. Paul Witmer, had his work cut out for him to keep the spirit of the original while enlarging it to 170 rooms.
The winter weather was mild and the Hotel Hershey was completed in about 18 months and opened on May 23, 1933.
For the dedication, several hundred guests were invited to the formal opening on Friday evening, May 26, 1933. Two hundred were present in the circular dining room, where John Snyder presided as toastmaster.
Mr. Hershey made one of his rare speeches. "I am but a simple farmer," he said, as reported in the Lancaster Sunday News of May 28. "I like to utilize nature's beauty for the pleasure of men. This hotel where you are assembled has been a dream of mine for many years."
The Honorable C.V. Henry, President Judge of Lebanon County, when called upon to speak, observed, "If this is the way people live on the farm, let's all go back to farming."
Gallery
Click image to view larger
Search Encyclopedia