A Window to the World: Hershey Park Zoo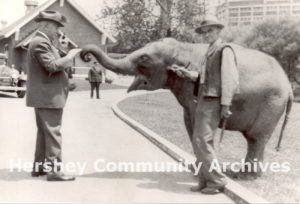 Until the mid 20th century there were relatively few wild animal collections in the United States. Not surprisingly, zoos were a "big city" attraction. Large urban areas had the resources and the potential audience to support such an exotic and unique attraction. Some of the United States' best known zoos, such as the Philadelphia Zoo (1874), Baltimore Zoo (1878), National Zoo (1889) and Bronx Zoo (1899), did not open until the end of the 19th century.
Milton Hershey believed in providing his town with experiences not typical for a small town. Hershey Zoo began in 1905 with an exhibit of prairie dogs in Hershey Park. In 1910 the Zoo formally opened. Hershey Zoo sought to feature exotic animals in its exhibits. Lions, leopards, monkeys and exotic birds were popular early attractions.
During Milton Hershey's lifetime Hershey Zoo was a local attraction. Animals were added to the zoo because they became available or someone had a special interest in having a particular specimen in the zoo. In the era before television, zoos played an important role educating the public about animals and environments different than central Pennsylvania.
The zoo was particularly successful in breeding animals in captivity. Lion quintuplets were born at Hershey Zoo on Easter Sunday in 1936. The mother's name was Erie and the father was Leo. The cubs would have been sold or traded to other zoos when they were old enough.
Hershey Park Zoo closed at the end of the 1971 season as part of Hershey Estates' plans to modernize Hershey Park. In 1978 it was redeveloped as ZooAmerica, an accredited zoo that features exhibits of animals native to North America, with naturalized animal habitats.
To see more images of Hershey Zoo and ZooAmerica, check out the Archives' Flickr photo sets.