All the Comforts of Home: Hershey Motor Lodge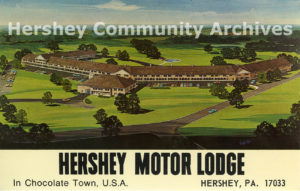 During the 1950s and 1960s Hershey was a sought after place for recreation, entertainment and business. The influx of tourists created parking and traffic problems. Hershey Estates, the owner of all of Hershey's attractions and lodging venues, struggled to met the growing demands of visitors to the town. While Milton Hershey had been alive, he had provided the necessary funds to keep Hershey an attractive destination without concern for profits. After his death, profitability became more important and without adequate funding, facilities often appeared worn and tired.
Hershey's Cocoa Inn had many faults: inadequate wiring, plumbing and room layout. The downtown site was plagued by severe sinkholes. Limited parking made the facility unattractive to the modern tourist family. In response to the growing automobile based tourist business Hershey Estates began planning for a large 200 room motel on the west end of town. The future Hershey Motor Lodge was a visible symbol of Hershey Estates' new focus on entertainment and resorts.
Construction for the Motor Lodge was hampered by sinkholes, a well-known obstacle in Hershey. The location for the Lodge's entrance was changed three times because of them. Opening May 1, 1967, the Hershey Motor Lodge featured 200 guest rooms, the Hearth Room Restaurant, two meeting rooms capable of holding 400 people, and a free-form outdoor swimming pool. The Lodge offered guests curbside access to their rooms.
Interestingly, since the primary market was seen as families, plans for the Motor Lodge called for the facility to be totally alcohol free. It wasn't until shortly after opening that Hershey reconsidered that decision. In 1968, the brand new facility was renovated to add a cocktail lounge, The Forebay.
The lake that marks the main entrance to the Motor Lodge was also another addition to the original design. The lake was added at the request of James Bobb, then Hershey Estates' president. The architect, contractor and consulting engineer all argued against the idea, citing the extensive and complex system of sinkholes. To create the pond, individual sinkholes were filled with crushed stone and sometimes sealed with concrete, and then the entire bed of the lake was sealed with "Bentonite," a special mixture of clay which bonds and holds water. Anytime it rained, the pond would fill. When needed, the pond could also be refilled from a nearby farm's water source.
To learn more about the growth and development of the Hershey Lodge, visit the chronology database available on the Archives' website and search on 'Hershey Lodge.'
Gallery
Click image to view larger
Search Encyclopedia