What a Way to Make a Living! Working at the Hershey Chocolate Factory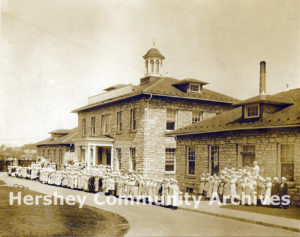 The original Hershey Chocolate factory closed this spring after 107 years of service. Chocolate making is still in Hershey as operations were moved down the street to the newly expanded West Hershey plant. The original factory and its iconic smokestacks will remain part of the Hershey landscape. Over the next several years the building will be repurposed.
During its life as a chocolate factory, the Hershey Chocolate factory defined the community, providing steady work for residents of the town and surrounding area while adding a sweet, chocolatey scent to the air.
Who were these workers and what was it like to work at the original chocolate factory? The Archives recently created a case exhibit in The Hershey Story lobby to showcase some of the archival materials in the collection that provide insight into worker lives. In particular the Archives' oral history and photograph collections help us to better understand what working in the factory was like. In this interview with Mary Bonawitz from 1996, she states:
I was new. I was scared of getting lost. I didn't know the way around, you know. You had to go through two long corridors, five flights of steps, and you went in there. Those days we had aprons, gingham aprons, and white caps we wore. You went in and went to your machine. You had to be there  When your machine started up, there was no waiting. You'd better be there, you know. One time I was reprimanded. You only were reprimanded once. You didn't want to be reprimanded again.

When you stuck almonds, you got bored. It was hot and you had to fight sleep sometimes. You start in work at ten minutes of six, coming up to your department, you know. You had to be there. And it was so hot. And in one position for five hours, there was a tendency to get drowsy. And if you wanted to talk to your partner, it was all lip reading. But we caught on very well. We had fun.
To learn more about Hershey Chocolate workers and what it was like to work in the chocolate factory, stop by The Hershey Story and check out our exhibit case. To explore the Archives' photograph and oral history collections, search the Archives' collections online.
Gallery
Click image to view larger
Search Encyclopedia