Cultivated for Pleasure: History of Hershey Conservatories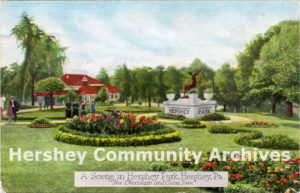 Landscaping and beautification of grounds and property was always a priority for Milton and Catherine Hershey. The community of Hershey was noted for its extensive garden beds, as well as the lush lawns and trees that were planted throughout Hershey. Catherine Hershey took particular responsibility for the gardens surrounding their home, High Point, personally supervising the placement and planting of the flower beds.
To protect the tropical plants that enhanced Hershey's landscaping and offer residents and visitors a respite from the cold winter months, Milton Hershey directed that greenhouses or conservatories be built in the community.
Hershey conservatories were used year round.  In the winter, they housed the many tropical plants and trees that beautified Hershey Park during the warm weather months, as well as the zoo's birds and reptiles that could not tolerate Pennsylvania's cold winter months. Visitors enjoyed visiting the conservatories to see the plants and wildlife. The conservatories were also used to propagate seedlings and cuttings that were planted in Hershey's extensive garden beds each spring.
HIGH POINT CONSERVATORY
Hershey's first conservatory was built in 1909, as an accompaniment to Milton and Catherine's home, High Point.  Visitors and residents were welcome to tour the conservatory as well as the grounds.  The conservatory was removed circa 1928, when the grounds were redeveloped as a golf course.
HERSHEY PARK CONSERVATORY (1910)
The next conservatory was built soon after the first was completed. Opening in 1910, the first Hershey Park conservatory was located near what was then the main entrance to the Park in the vicinity of what is today ZooAmerica's Southern Swamps exhibit.
By 1915, the Zoo's bear enclosure adjoined the building. The conservatory was removed around 1924 in anticipation of the Hershey Estates Greenhouse.
HERSHEY PARK CONSERVATORY (1914)
In 1914, a second Hershey Park conservatory was built in the middle of the quickly expanding Zoo. Shortly after it opened a portion of the building was used by the Zoo for their primate enclosure.
The building is now home to ZooAmerica's Great Southwest exhibit.
HERSHEY ESTATES GREENHOUSE (1930)
Hershey's last public conservatory and greenhouse was built in 1930. The Hershey Estates Greenhouse was constructed on the north side of the railroad underpass on Mansion Road.
Removed in 1961, portions of the structure were reclaimed in 1998 and used in the construction of The Butterfly House at Hershey Gardens.
MILTON HERSHEY SCHOOL (Hershey Industrial School) GREENHOUSE (1919)
Hershey Industrial School (now Milton Hershey School) also built a greenhouse for the use of its students in 1919. The greenhouse was located adjacent to the Homestead, Milton Hershey's birthplace. Hershey Industrial School students used the greenhouse as part of the horticultural curriculum. Students cultivated plants for retail sale. In 1961, the greenhouse was relocated to the School's farm Rosemont, where it remained in use until 1992.
Gallery
Click image to view larger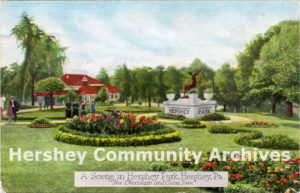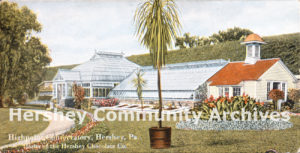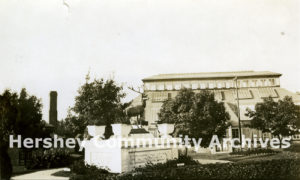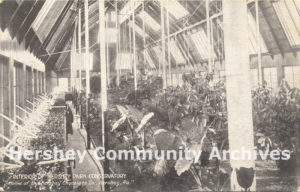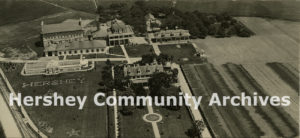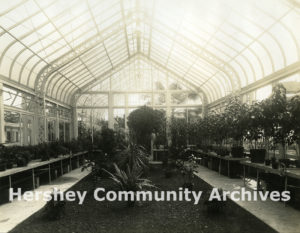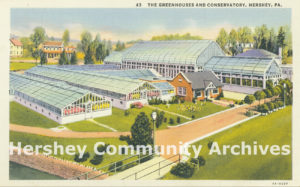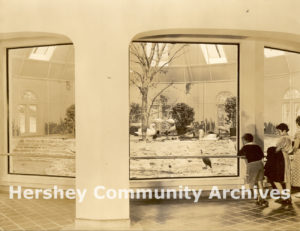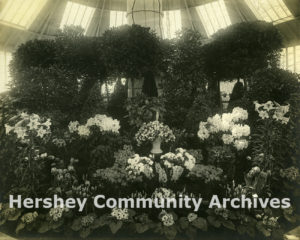 Search Encyclopedia