Fore! Origins of the Hershey Country Club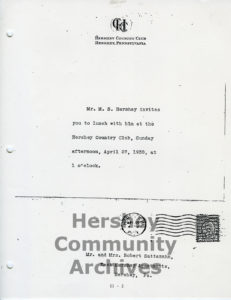 In 1928, Milton Hershey authorized the construction of two new golf courses for Hershey. The first course was located next to Hershey Park and was named the Hershey Parkview course. Parkview was a public course, open to all golfers. The second course was laid out on land surrounding Milton Hershey's home, High Point. This course incorporated the remaining holes of Hershey's first  9-hole golf course that had been established in 1908. Over the years, the chocolate factory's continual expansion had consumed the original course bit by bit so that by the 1920s only 5 or 6 holes remained.
In April 1930, Milton Hershey sent an invitation to one hundred people in Hershey, inviting them to a luncheon to be held at his home, which was being remodeled to serve as a clubhouse for the new country club. As part of the remodeling, Milton Hershey reserved the second floor of the house as his personal apartment.
Before lunch was served, Milton Hershey greeted his guests and invited them to look under their plates. Underneath each plate was a charter membership card for each guest.
High Point served as the clubhouse for the Hershey Country Club until 1970 when the new East course opened and new clubhouse was constructed along East Derry Road.
Gallery
Click image to view larger
Search Encyclopedia