Private or Public: Hershey, the Golf Capital of Pennsylvania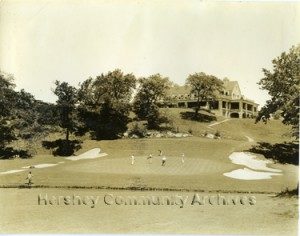 Beginning in the 1930s Hershey became known as the "Golf Capital of Pennsylvania."  Its 54 holes of golf (Hershey Country Club – 18, Hershey Park Golf Club – 18, Juvenile Golf Course – 9, Hotel Hershey Golf Course – 9) made Hershey a popular destination for golfers of all skill levels.
Hershey golf courses attracted some of the country's best golfers. Hershey Country Club sponsored the Hershey Open a professional golf tournament for several years beginning in 1931.
Golf was a popular sport within the Hershey community. Hershey corporations featured annual tournaments for workers. The Hershey Men's Club also sponsored local tournaments for members. Most of these tournaments were played on the Hershey's public course, the Hershey Park Golf Course  (later Parkview). As one of Hershey's public courses, the Park course was open to anyone. It was very popular with tourists and residents alike.
In 1957 the Park Course received national attention when it hosted the 32nd Annual National Public Links Golf Championship. This tournament was first held in 1922 at the Ottawa Park Course in Toledo, Ohio. It was established to allow public course players the opportunity to compete nationally. The 1957 tournament was held July 29 – August 3, 1957. The tournament attracted players from across the United States, including six players from Hawaii.
The competition was a match play championship where the winner of each game was determined by the number of holes won rather than the number of strokes. The 1957 winner was Don Essig III who was a sophomore from Louisiana State University who beat Gene Towry of Dallas, Texas.