Heart of the Community: Hershey's Community Building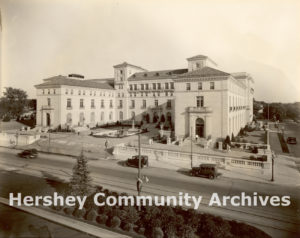 Originally planned for 1916 and finally constructed during Hershey's Great Building Campaign of the 1930s, the goal of the building was to provide entertainment and recreation, as well as to fulfill educational and civic functions for the entire town. World War I and subsequent financial challenges for Hershey Chocolate Company delayed its construction. Finally in November 1928 ground was broken. The building was completed in September 1932 and officially dedicated in September 1933 as part of the Town's 30th anniversary celebration.
The primary function of the Building's recreational facilities was for the use of the Hershey Men's Club. The Men's Club offered an extensive range of programs and activities for the boys and men of Hershey. The facilities were very impressive.
Game Room
180 feet long, contains four bowling alleys, a court for practicing driving golf ball or putting, three shuffleboard tables, four ping pong tables, five pocket billiard tables for men, one billiard table for boys, a table for curoque, and a section devoted to games for boys in addition to tables for cards, checkers, chess, etc.
On same floor is a swimming pool 75 feet long by 25 feet wide, 3 – 9 1/2  feet deep,  with three spring boards. Separate showers for men and boys.
Gymnasium
80 x 44 feet with 35 foot ceiling for class work, volley ball, basketball, softball, badminton and special exercising rooms as well as two courts for four-wall hand ball, also can be used as squash courts.
Frank Simione (93OH02):
In the early years, from starting at my eighth birthday, we belonged to the Hershey Community Building, which at that time was called Community Club for us, where they had the Hershey hospital on the sixth floor, later became the Hershey Junior College. At eight years old, we belonged to this Community Building, where we learned all the athletic sports, all types of games. I think it was three dollars for six months, and you started as a cadet and went up to a junior, and then you went into intermediate, then you went into a senior program.

Spending all that time and all those years there, I learned many athletic games and as much as all the small games that you would play, like checkers and dominoes and pool and ping-pong and bowling. We were fortunate to have this facility. At the time, we didn't know any better, but as we grew, and later on in life, we found that that was a beautiful place for kids to go.
To learn more about the Archives' oral history collections use this link to visit the Archives online collections database.
Gallery
Click image to view larger
Search Encyclopedia