Golf for Hershey's Youth: Juvenile Country Club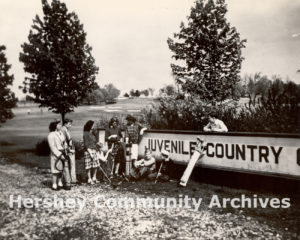 In 1932 Hershey added its most unusual course. The Juvenile Country Club [today Spring Creek Golf Club] was the only course in the United States dedicated to children under eighteen years old. Youth golf fees were $.35 and for an annual fee of $10, children had unlimited access to the Juvenile course. As a result, golf was very popular with the community's youth. Lessons were offered to teach the game fundamentals and golf etiquette. Several youth tournaments were held each summer and the results often made the front page of the weekly Hotel Hershey Highlights. The sport was equally popular with girls and boys. Many boys, as soon as they were big enough, spent their summers playing golf and caddying for the Country Club.
The Juvenile Club facilities included a substantial log cabin for its clubhouse. The cabin was decorated with a hunter's theme, with the walls covered with animal pelts and antlers. The main room also featured two limestone open fireplaces. The clubhouse provided male and female locker rooms and showers.
The Juvenile course was re-purposed as a public course open to golfers of all ages in 1969 and renamed Spring Creek Golf Course.