Hershey Sports Arena: A Home for Hockey and More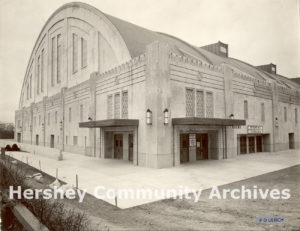 Hersheypark Arena will celebrate its 75th anniversary in December 2011. When it was constructed it was an engineering marvel, the first large-scale thin-shell concrete structure in the United States. The Hershey Arena established a new type of roof structure that was used throughout the United States from 1936 onward. The building is even more impressive when you realize that total time of construction, from breaking ground on March 11, 1936 to opening night on December 19, 1936 was a little more than nine months.
Anton Tedesko was a German engineer who had developed the concept of thin shelled concrete structures. In 1931 he had been sent to the Chicago design-construction firm Roberts and Schaefer to drum up new business for this newly patented construction method. In the beginning Tedesko worked tirelessly with many unrealized proposals. He ran into resistance from conservative steel designers, and the harsh economic climate of a deep recession.
By 1935, Tedesko had professional friends and contacts in many U.S. cities including Philadelphia. The Portland Cement Association representative, James Gibson, acted as an intermediary to Hershey Estates who wanted to build a new ice arena. The 32 year old Tedesko leapt at the chance to design the largest monolithic concrete roof structure in North America. There was no precedent for such a structure, no design codes, no established construction practices for a project of this scale requiring such careful tolerances.
On January 21, 1936, Tedesko, helped by Gibson, presented his idea for a huge arena to Hershey Lumber Company manager, D. Paul Witmer, who in turn presented it to Mr. Hershey. "I was somewhat startled when Witmer showed me the plans, for I hadn't figured building such a large structure, and I had to think twice before I let him go ahead with its construction", said Milton Hershey. Tedesko hired staff in Chicago and design work started immediately, and on February 7 he began to write out in detail the full calculations for the roof structure to be continued…
Gallery
Click image to view larger
Search Encyclopedia