To Seek Justice and Preserve Peace: Pennsylvania State Police Training Academy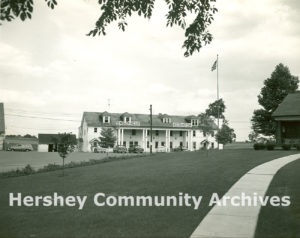 In February 1920, a State Police training school was established in Newville, Cumberland County. The Newville Training School was closed on March 1, 1923. The following year the school was reinstituted in Hershey, PA. The Academy was originally located on Cocoa Avenue, next to the Memorial Baseball Field.
In addition, the State Highway Patrol used the basement of the Hershey Inn to train Highway Patrol recruits. In 1926, the Highway Patrol Training School moved from the Hershey Inn to 19th and Swatara Streets. Harrisburg.
Hershey did not have a police force of its own and often turned to the State Police Academy for assistance when needed. Elwood Meyers, who worked in the Hershey Chocolate Corporation lab, remembered how the relationship between Hershey and the Academy  benefited each other:
Well, this used to be our problem, getting through the town. And, you see, they didn't always have traffic lights either. But we had the state police. The academy was located here on Cocoa Avenue. And at that time we didn't have so many restrictions about using a public property and this kind of thing. So that if we were going to have a parade, or anytime there was a large crowd of people coming to Hershey or there was a traffic problem, someone would call up the police barracks, and they were only too glad to send policemen, because this is where they got their training, see. They needed a lot of traffic cops. They needed this kind of training. We had all kinds of policemen around the town. There was no congestion in any place that didn't last very long.

As a matter of fact, today I don't think they can even help the town. But, you see, they kept their horses out here. This is where the ball diamond [Memorial Field] now is.  Oh, yeah, that was a large pasture there. I don't know how many horses–sixty, seventy horses, maybe. And they would get all their groceries from the Hershey Department Store, you know, their feed from the feed mill, and that kind of thing. Had a real good relationship. But Hershey treated them right. They treated Hershey right. It was a good deal.

In 1960, on land provided by the Hershey Interests, a new Pennsylvania State Police Academy opened located on a site north of Hersheypark Drive, adjacent to The Hershey Company headquarters. Until Derry Township established its own police force in 1966, the State Police Academy served as the community's unofficial police force.
Many in Hershey have fond memories of the State Police and the Academy. During  1934-1974 the annual State Police rodeos at the Hershey Stadium were a popular event for the town and region. Each year multiple performances were held with as many as 15,000 people attending a single show.
Gallery
Click image to view larger
Search Encyclopedia