HersheyArchives@30, Part 23: Hershey Figure Skating Club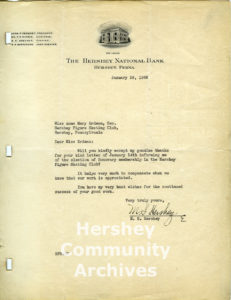 The Archives' collections are a rich resource for understanding not just Milton Hershey and his legacy but also for the growth and development of the Hershey community. The Archives actively collections the records of local businesses and organizations to preserve the history of the community and its residents.
Milton Hershey took an active interest in everything that happened in his town. As noted in last week's blog post, when community business leaders established the Hershey Rotary Club, Mr. Hershey was made an honorary member. Many other community groups, wishing to recognize Milton Hershey's generosity and vision for his community, also recognized him as an honorary member.
Hershey's Ice Palace opened in 1931. Ice skating and hockey quickly became very popular. By 1932, Hershey was sponsoring its own ice hockey team. Artificial ice rinks were unusual in central Pennsylvania and soon figure skaters began coming to Hershey from Lancaster, Harrisburg and Reading.
The idea for an established club grew out of the group's desire to be able to rent the rink for sessions devoted to figure skating. In November 1934, a small group of figure skaters held an organizational meeting for the Hershey Figure Skating Club. Milton Hershey was very supportive of the Hershey Figure Skating Club, providing facilities and the management support of Hershey Estates.
The following year the club formally recognized Milton Hershey's support, making him an honorary member of the club.
#HersheyArchives@30
Gallery
Click image to view larger
Search Encyclopedia