HersheyArchives@30, Part 22: Service Above Self – Hershey Rotary Club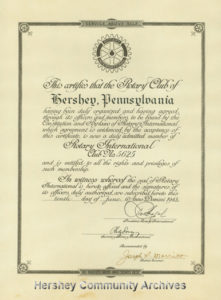 Community organizations are the lifeblood of a town. They provide residents with opportunities to meet and socialize with each other while working to enhance community life. These groups enrich their communities while giving their members a sense of purpose and contributing to the community. The Archives actively collects the records of Hershey's community businesses and organizations and is fortunate to hold the records of several community groups.
Community groups began to form shortly after the Hershey Chocolate factory began operations in 1905. The organizations varied from the critically needed Hershey Volunteer Fire Company to the purely social Men's Doggy Bow-Wow Club (?!).
Hershey's community groups enhanced Hershey's social life by creating community gatherings such as the annual Christmas tree lighting, presenting annual concerts, and organizing food and clothing collections for the less fortunate.
Civic clubs in particular play an important role, working to improve neighborhoods through volunteer work by its members. During the 1930s, Hershey had a local Civic Club, which sponsored community clean-up days, organized various community celebrations, and raised money to help support other local organizations.
Since there was already a civic club in Hershey, initially there was little interest in starting a Rotary club, despite urging from Rotary clubs in Elizabethtown and Harrisburg. All that changed in 1943 when D. Paul Witmer, the head of Hershey Industrial School [Milton Hershey School], attended a Rotary meeting in Elizabethtown. "Pop" Britton, manager of the Hershey Community Center and member of the Palmyra Rotary, also encouraged John B. Sollenberger, president of Hershey Estates, to consider starting a new Rotary club.  With interest from two of Hershey's business leaders, a new Rotary club was soon in the works. It was decided that the members of Hershey's Civic Club would be invited to join the new Rotary club.
The first meeting was held June 2, 1943 in the Hershey Community Building dining room.  John B. Sollenberger was elected president, and the charter was presented to the club on June 14, 1943.
Leadership:
President – John B. Sollenberger
Vice President – Carl T. Britton
Secretary – W. Allen Hammond
Treasurer – D. Paul Witmer
Sargent at Arms – Raymond H. Koch
Directors: Harry Erdman, Harry N. Herr, Edwin S. Wagner
There were 29 charter members and Milton S. Hershey was made an honorary member. The first regular meeting was on June 21, 1943 also in the dining room of the Community Building.
In the beginning, the Hershey Rotary Club partnered with the Hershey Civic Club on a number of projects. The first joint project was the Cocoa Bean game, a football game pitting Milton Hershey School against Hershey's public high school.  The competition was first held in 1943 to raise money for Memorial Field, Hershey's local outdoor recreation center.
Children have always been a focus of Rotary support and beginning in 1958, the Hershey Rotary Club began an enduring program of sponsoring international student exchanges.
Hershey Rotary Club often took the lead in organizing community celebrations. In 1950, the club organized Founders Day, a day to remember Mr.Hershey.
The club's biggest fund raiser, its annual auction, began in 1968. At first the entire proceeds of the auction were donated to the Hershey Volunteer Fire Company. Today, auction proceeds are shared with a wide variety of community and regional non-profit groups.
Today Hershey Rotary Club continues to serve the community of Hershey through its commitment to "Service Above Self."
#HersheyArchives@30
Gallery
Click image to view larger
Search Encyclopedia