HersheyArchives@30, Part 26: Why Did Hershey Sell Its Cuban Assets?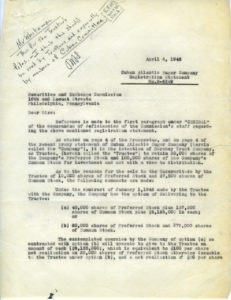 In 1921, Milton Hershey hired Percy Alexander (P.A.) Staples to manage his Cuban operations. For the next 23 years Staples resided in Cuba. As part of his work, he became very knowledgeable about Cuba — not only its sugar industry, but also with its people, culture, economy, and politics.
In 1944, Milton Hershey selected Staples to succeed him as president and chairman of all of the Hershey Entities. Staples relocated to Hershey and quickly settled into his new responsibilities. Though Hershey's Cuban properties had been consistently profitable, Staples recommended to Mr. Hershey that the Cuban properties should be sold. Staples' long residence in Cuba provided him with a unique understanding of the country and perhaps created some concerns about its future.
Selling such a sizable asset required months of due diligence and documenting all aspects of the business. Naturally, there were questions about why Hershey might want to sell a business that had expanded and been profitable for years.
Mr. Staples outlined some of the reasons for selling Hershey's Cuban properties in an April 6, 1946 letter to the Securities and Exchange Commission (SEC):
The desire of the Trustee to change its position from that of 100 percent owner of the Hershey Cuban enterprises to that of an owner of only half of the Preferred Stock, and less than 100 percent of the Common Stock, of the Company arises from the fact that, except for the Hershey Cuban enterprises, the only operating properties controlled by the Trustee are located in or near Hershey, Pennsylvania. The individual members of the board of trustees of Hershey Trust Company are men living in and around Hershey, Pennsylvania. Of them the writer (P.A. Staples) is the only one experienced in the operation and supervision of properties in Cuba and the only one having the specialized knowledge required for such purpose.

In the light of these circumstances, the late Milton S. Hershey, founder of the Hershey Industrial School, explored the possibilities of a transaction of the general character which is about to be effected and the proposed transaction with the Company is one which was approved in principle by Mr. Hershey before his death last fall.
#HersheyArchives@30
Gallery
Click image to view larger
Search Encyclopedia