HersheyArchives@30, Part 27: Hershey's Kiss Streetlights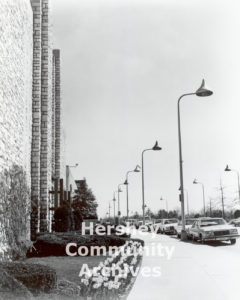 Each year millions of people visit Hershey, drawn by Hershey's many attractions, including its streetlights. Seriously!
Hershey's streetlights are unique. The lights along Chocolate Avenue, Hershey's main street, are shaped like wrapped and unwrapped Hershey's Kisses Chocolates. They've been a part of the community's landscape since 1963, when Hershey Chocolate Corporation president, Samuel Hinkle, suggested that the town improve its downtown lighting with a unique style of streetlights.
Sam Hinkle realized that Hershey's street lighting was not adequate. During his travels he took note of how other towns were lit and he directed the chocolate corporation's electrical engineer, Don Chubb, to study the problem and make some recommendations. Sam Hinkle added an additional condition to the project: he wanted the streetlights to be uniquely "Hershey."
It was an unusual project and Don Chubb had vivid memories that he related in his 1999 oral history interview. Chubb recalled a meeting that Hinkle called to discuss new lighting for the town:
Mr. Hinkle made the statement that he wanted his town relighted… I said, "Well, the only way you can have street lighting like that is to get some manufacturers to come up with some prototype fixtures."

[Hinkle asked] "How do we do that?"

Well, the three major manufacturers were Westinghouse, General Electric, and Line Material. So we talked to all three of them and asked if they would make up a prototype fixture, and in the process, I told each of them that the only thing that lends itself at all toward a streetlight is the chocolate Kiss, the Hershey Kiss, mainly because of the shape and it's like a globe overtop of an incandescent bulb.
The three manufacturers each submitted a prototype lighting fixture and Chubb had them set up in a field near the Hershey Stadium. The light selected was designed by Line Material. As Chubb recalled:
The one from Line Material is basically the one that we have today. They took the whole idea of a chocolate, or a wrapped Kiss, and made molds for it, made forms to spin them, and made them out of aluminum. Everyone, as soon as they saw it, [said] "Hey, that's what we want."

Sam Hinkle was very pleased, except he said, "Can't you take that [Kiss plume] and have it rotate like a weathervane?"  "Sure, probably no problem."  Contacted them [Line Material], they said, "Oh yeah."
Once the final designs were approved, Chubb and his team developed a lighting plan for all of Chocolate Avenue and a portion of Park Avenue.
The lights were officially lit and dedicated in a brief ceremony on December 23, 1963. Sam Hinkle was so closely associated with the project that the lights were soon christened "Hinkle's Twinkles."
Today there are 105 streetlights (54 wrapped, 51 unwrapped) on Chocolate Avenue, and ten Kiss streetlights (five wrapped, five unwrapped) on Park Avenue between Chocolate Avenue and the railroad bridge. The Hershey Company has also installed them at each of their manufacturing plants.
#HersheyArchives@30