HersheyArchives@30, Part 30: Hershey Chocolate. The Great American Chocolate Bar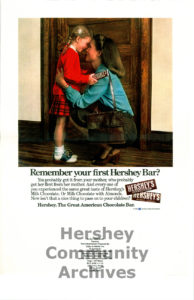 It is an advertising industry legend that Hershey Chocolate did not advertise. The advertising industry marveled at Hershey's success without the use of advertising. During the company's first fifty years, Hershey Chocolate succeeded without media advertising because it had few competitors in the solid chocolate confectionery market.
The image of Hershey as a company that succeeded without advertising stretches the truth. It is true that Hershey did not use media advertising (newspaper ads, radio, television) until 1970. However, Hershey did make extensive use of trade and point-of-purchase advertising throughout its history. Unlike most companies that directed advertising dollars to consumers as well as customers, Hershey concentrated all its advertising budget towards the trade, placing ads in trade publications, offering cut sheets to customers to use in their own newspaper ads and promoting its products with shelf talkers and window displays.
In the 1960s, market changes and the growth of the Mars Candy Company under Forrest Mars challenged Hershey's control of the market. During the 1960s, Mars steadily gained market share and Hershey realized that it would have to change how it conducted business.
It was not a simple matter to begin media and print advertising. Hershey first needed to build the infrastructure that would enable them to develop a modern marketing program and support an advertising campaign. That took several years.
Jack Dowd, hired in 1965 to help Hershey establish its first marketing department, recalled in his 1991 oral history interview, the chocolate company's reluctance to move towards implementing a media advertising campaign, in spite of the company's trend toward losing market share.
Incidentally, my interview, the first day I met a number of people, including Harold Mohler [Hershey Chocolate Corporation president].  He said, "They seem to like you here, but a couple of things you should know about Hershey. One is, we don't advertise."

I said, "I'm vividly aware of that.  Everybody in marketing is aware of that. But I have a couple of hypotheses about your company because I've done a lot of reading about it, and if they're true, you're going to be advertising."

He said, "What are they?"

I said, "I think your share of market has been declining."

And he said, "Yes, it has."

I said, "I think your new products are not as successful as your old products."

He said, "That's true.  They're not."

And I said, "I don't think that your products are as popular with children as they are with adults."

And he said, "That's true."

And I said, "Given those three, you're going to start to advertise."

He said, "Well, we haven't decided yet."

It was not until 1969 that the company was ready to launch a national media advertising campaign.
When Hershey Foods Corporation began the process of searching for an advertising agency, it was particularly interested in the agency's skills in producing television ads. After interviewing six firms, Hershey hired Ogilvy & Mather, who were based in New York City.
In sharing the news of hiring Ogilvy & Mather with their employees, Hershey noted the growing competition for shelf space in the grocery store, the changing demographics of the country's population with the emergence of the baby boom generation and the need to connect with a more youthful audience. The July 21, 1969 memo stated:
With the competition getting keener for the consumers sweet tooth – and the fact that almost half of the people in the United States today are under 25 years of age, we felt it prudent to introduce this marketing tool to acquaint this younger generation with our items and to maintain our position with the over 25 group.
Hershey selected three brands with which to test the advertising waters: Hershey's Milk Chocolate, Reese's Peanut Butter Cups, and Hershey's Instant, a milk chocolate powder. At first tests were done in seven cities for several months before launching a national campaign in September, 1970.
Ogilvy & Mather's creative director for the Hershey Milk Chocolate team was Billings Fuess. He developed the "Hershey. The Great American Chocolate Bar" ad campaign.
Billings Fuess was inspired by his love of Hershey's Milk Chocolate, believing that it was superior to European milk chocolate. He explained his reasoning and inspiration in a 2010 oral history interview.:
I had the idea for "The Great American Chocolate Bar" because I knew there was a lot of wonderful history behind Hershey. I also liked Hershey bars and they were a heck of a lot better than their competition from Switzerland. And I wanted to give them a dig and say the great AMERICAN chocolate bar.
Along with the slogan, Fuess also developed the concept for the first television commercials. He wanted the commercials to express the personal relationships nurtured by the shared enjoyment of Hershey's Milk Chocolate. His strategy was to "build upon the marvelous reminisces of people and what the Hershey bar means to most people and the fact that it's American and it tastes so good and there's something wondrous about a little child eating it and sharing it with his parents… The idea of a father with his son on his shoulders and the son tears open the Hershey bar, eats some and give some to his father as he's walking down the street."
The Great American Chocolate Bar campaign served the company well. It continued to serve as the basis of Hershey's Milk Chocolate marketing from 1970 until 1994.
#HersheyArchives@30
Gallery
Click image to view larger
Search Encyclopedia