HersheyArchives@30, Part 29: What's New?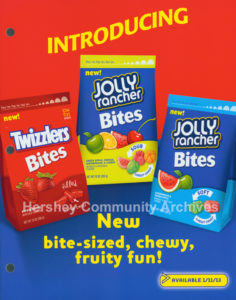 Occasionally, someone asks: "What is the oldest item in the archival collection?" But no one has asked, "What is the most contemporary item in the collection?" Researchers often equate archives with pre-twentieth century materials such as handwritten deeds or manuscripts written on parchment. However, Hershey Community Archives' collections are largely comprised of twentieth century records and, increasingly, twenty-first century records.
The Archives receives regular transfers of records from the corporations and organizations whose historical records we manage, such as The Hershey Company, Hershey Entertainment and Resorts Company, Hershey Area AARP, and the Derry Township Senior Citizen's Council. Contemporary records, yes even those that date from 2015, are currently held by the Archives.
These selected contemporary records have what is called "archival value," meaning the records have enduring value based on their historical usefulness or significance, that justifies their continued preservation. The records are collected quickly after they are produced so that they are less likely to be lost, causing a break in the documentary record.
By collecting contemporary records, the Archives can provide a comprehensive institutional history or document the development of a particular event.
Archivists have an obligation to future researchers and the organizations they serve to collect and preserve contemporary records so they are available when a need arises. The records produced in 2015 and transferred to the Archives are already "archival" and have historical value. The records will help tell or illustrate an institution's history 50 years from now or perhaps just a few years from now.
Gallery
Click image to view larger
Search Encyclopedia