Hershey's Milk Chocolate: Bar Wrappers Over the Years
Search for the Perfect Formula
By the early 1890s, Milton Hershey's Lancaster Caramel Company was an established success. Fortunately, its very success set free Mr. Hershey's enthusiasm, energy and love of technology to look for a new challenge.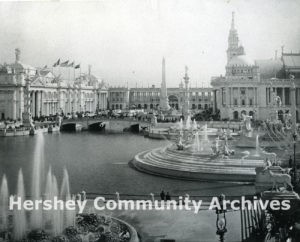 He found it at the Columbian Exposition where, in 1893, he had the chance to see a complete chocolate manufacturing operation in action. There, he arranged to purchase the entire assembly and had it shipped to Lancaster as soon as the Exposition closed. Upon arrival, the equipment was set up in a wing of the caramel factory. It was here that Hershey first experimented with the chocolate-making process. He established the Hershey Chocolate Company and soon began marketing baking chocolate, cocoa and sweet chocolate products in a variety of shapes and sizes.
Milton Hershey's greatest contribution to the food industry was in the manufacture of milk chocolate. He was not, of course, the first to make it. The Swiss began manufacturing milk chocolate as a luxury item in 1876. But Milton Hershey was the first to make it commercially, with mass production techniques, and using fresh milk.
Developing the formula for Hershey's milk chocolate was not a simple task. Bert Black, who began working for Milton Hershey in 1899, remembered: "Nobody told Mr. Hershey how to make milk chocolate. He just found out the hard way."
After several years of trial and error Hershey's milk chocolate was introduced in 1900. It would require several more years of experimentation before Milton Hershey decided that he had hit upon the perfect formula.  Unlike the sweet chocolate line which marketed confections in dozens of shapes, milk chocolate was marketed in only a few shapes: bars, croquettes and wafers.
One hundred years ago Hershey's milk chocolate appealed to consumers not only because it was great tasting, but also because it provided the average person an opportunity to enjoy what up until then had been a luxury treat.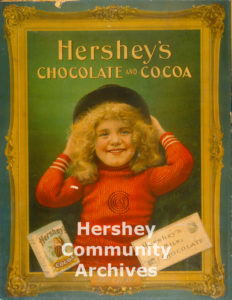 Hershey's Milk Chocolate bar wrappers, 1900-1911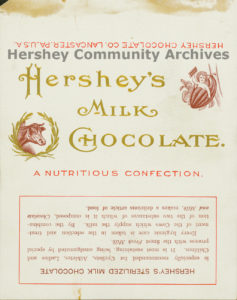 The original Hershey's Milk Chocolate bar wrapper featured gold lettering on white glossy paper.  Hershey's classic maroon color paper was introduced about 1902 but featured gold lettering.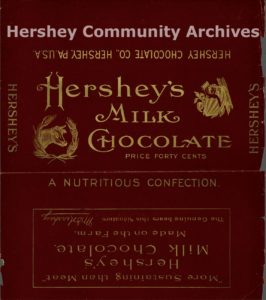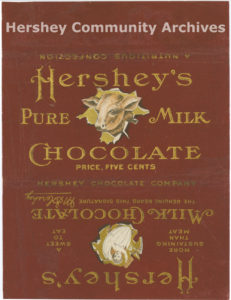 The maroon label was redesigned as a sleeve around the bar, revealing the foil innerwrap on either end of the bar.  The gold lettering was embossed, created a 3-dimensional effect on the label.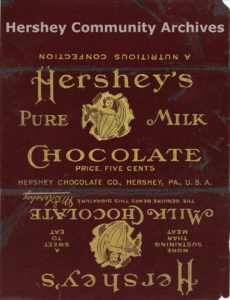 Hershey Chocolate Company began marketing its standard size chocolate bars for a nickel ($.05) in 1900, setting a standard for the United States confectionery industry that continued until 1969.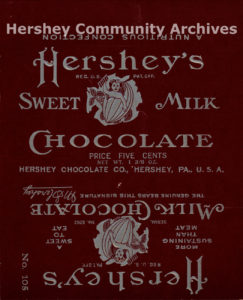 Hershey Chocolate Company switched to silver ink following a complaint from another confectionery company, who claimed that Hershey was infringing on their product trademark.
Hershey's Milk Chocolate bar wrappers, 1912-1950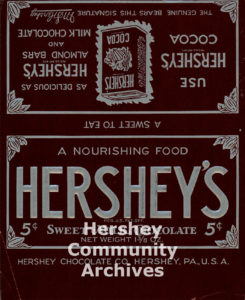 The classic block letter design "HERSHEY'S" on the bar wrapper was introduced in 1912.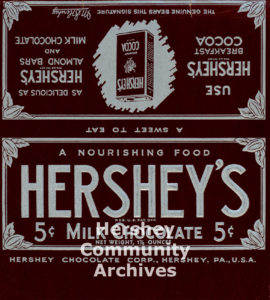 In October 1927 Milton Hershey reorganized his businesses and Hershey Chocolate Company became Hershey Chocolate Corporation, a publicly traded corporation.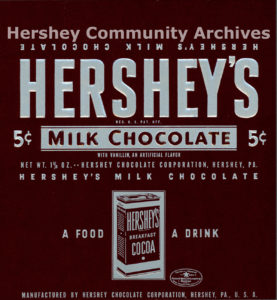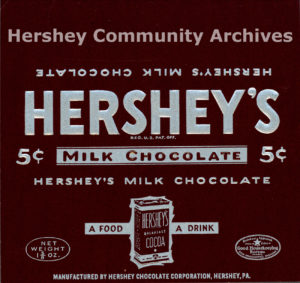 Hershey's Milk Chocolate bar wrappers, 1950-1976
After World War II ended Hershey Chocolate Corporation continued to use white glassine paper as the inner wrapper for its milk chocolate bars as a cost savings measure.
The price for raw cocoa beans fluctuated dramatically during the 1950s.  Hershey Chocolate Corporation was committed to maintaining a five cent ($.05) price for its candy bars.  To respond to the dramatically changing prices for the raw ingredients, Hershey changed the weight of its candy bars, decreasing bar weight when cocoa bean prices soared and increasing the weight when bean prices declined.
As another cost saving measure, Hershey discontinued embossing the silver printing on its labels in 1950.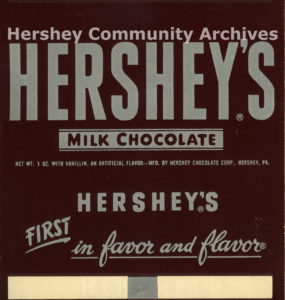 Hershey Chocolate Corporation became Hershey Foods Corporation in 1968.   The chocolate division was named "Hershey Chocolate and Confectionery Division."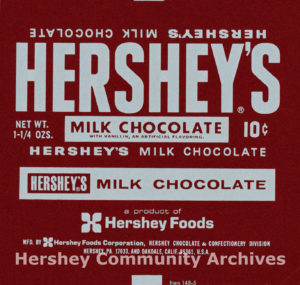 Hershey Chocolate discontinued its five cent ($.05) bar on November 24, 1969.  Hershey's ten cent ($.10) bar (weighing more than twice as much as the old five cent bar) became the standard bar.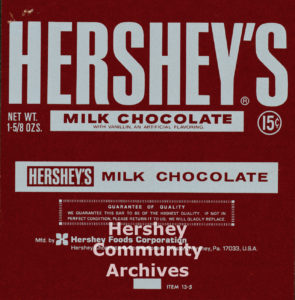 On December 12, 1973, Hershey Foods Corporation added nutritional labeling on all its candy bars, a first in the confectionery industry.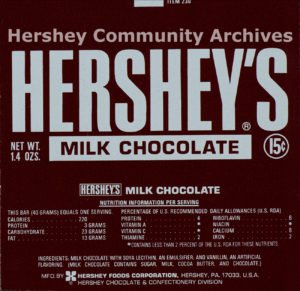 In 1976, Hershey began printing UPC codes on its packaging.
Hershey's Milk Chocolate bar wrappers, 1978-2010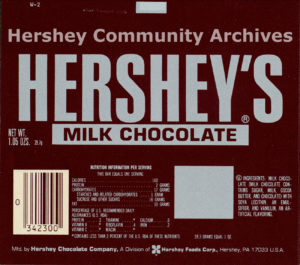 In August 1978, Hershey's confectionery division was renamed Hershey Chocolate Company.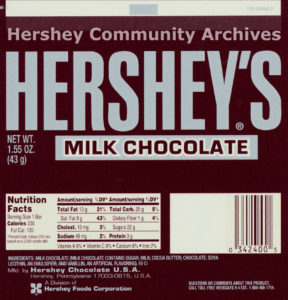 In the 3rd quarter of 1984 Hershey Foods Corporation replaced the white glassine innerwrap with a foil innerwrap.  The foil innerwrap had not been used since 1942.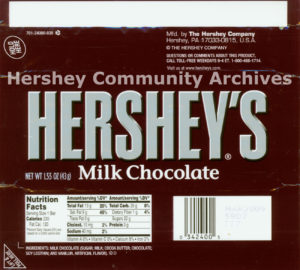 In 2003, to enhance product freshness, Hershey discontinued its traditional foil innerwrap and paper wrapper and began wrapping its milk chocolate bars with a single fin-seal film wrapper.
Additionally, Hershey Foods Corporation officially changes its name to The Hershey Company in 2005.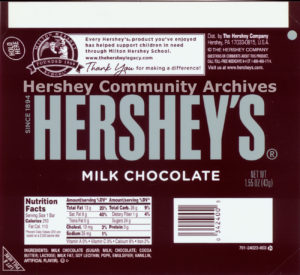 In 2010, in honor of the Milton Hershey School's 100th anniversary, Hershey added a message to the bar: "Every Hershey's product you've enjoyed has helped support children in need through Milton Hershey School."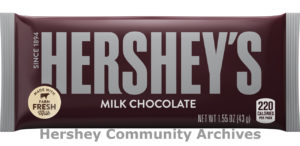 In 2016, The Hershey Company added silver to the edges of the finseal to replicate the former foil innerwrap and a stamp to indicate that Hershey's chocolate is "made with farm fresh milk."
Gallery
Click image to view larger
Search Encyclopedia