Hershey's Tropical Chocolate Bar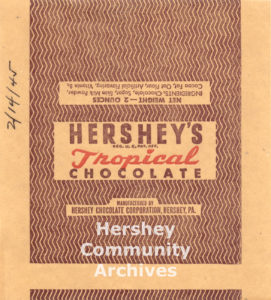 Since the United States Army turned to Hershey for help in developing its survival Field Ration D bar, it was only natural that in 1943, the Procurement Division of the United States Army approached Hershey Chocolate Corporation about the possibility of developing a heat resistant confectionery chocolate bar with an improved flavor. After a short period of experimentation, Hershey's Tropical Chocolate Bar, in one and two ounce sizes, was added to the list of war production items. The label was a type of glassine paper, white or tan, printed with brown ink with the exception of the word "Tropical" which was printed in red.
Hershey's Tropical Chocolate bars were developed to provide military personnel with access to a confectionery treat in parts of the world where Hershey's traditional products would readily melt. The Tropical bar's product formula was designed to allow the bar to hold its shape after one hour in 120 degrees Fahrenheit.
This bar was destined to exceed all other items in tonnage produced and along with the Field Ration D bar, became part of Hershey Chocolate's history. By the end of World War II, almost 380,000,000 two ounce Tropical bars had been produced for the United States military.
In July of 1971, Hershey's Tropical Chocolate Bar went to the moon with Apollo 15 astronauts.
Timeline
1943     Hershey's Tropical Chocolate Bar is introduced. Ingredients: Chocolate liquor, skim milk powder, cocoa butter, powdered sugar, vanillin, Vitamin B-1, oat flour.
1947    "Tropical" is printed in blue on the wrapper.
1957      Ingredients are changed.  Oat flour is removed.  'Non fat milk solids' replace 'skim milk powder.'  'Cocoa powder' replaces 'cocoa butter.'
1970      New label design is introduced.
1990      Hershey's Desert bar is introduced. (Discontinued 1991.) Ingredients: sugar, milk, cocoa butter, chocolate, soya lecithin, vanillin, egg whites.
Tropical Bar wrapper measurements:
1 oz. Bar:    3 3/4″wide x 4 1/8″ length
2 oz. Bar:    4 3/8″wide x 4 7/8″ length