Ration D Bars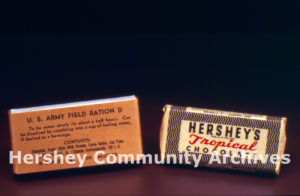 Introduction
Hershey Chocolate Corporation's involvement with the production of military ration bars began when Captain Paul Logan, from the office of U.S. Army Quartermaster General, met with William Murrie, President, Hershey Chocolate Corporation and Sam Hinkle, Chief Chemist, in April 1937. This initial visit started the experimental production of a ration bar which was to meet the needs of soldiers involved in a global war.
When Murrie and Hinkle told Milton Hershey about the visit by the Army Quartermaster Captain, he was very interested in hearing every detail and instructed them to get started on the project right away.
Developing the Formula
The standard chocolate bar, which melted readily in summer heat could never be adapted to being carried in a soldier's pocket. In addition, it was thought to be too tempting in taste to be used as an emergency ration to be eaten only when on the verge of starvation. Captain Logan explained his requirements: a bar weighing about four ounces, able to withstand high temperatures, high in food energy value, and tasting just a little better than a boiled potato.
Company Chemist Sam Hinkle was charged with developing the bar. The final ingredients were: chocolate liquor, sugar, skim milk powder, cocoa butter, oat flour, vanillin. Sugar was decreased and chocolate liquor increased to give the bar a less appealing taste than normal chocolate bars. The formula created a heavy paste that had to be pressed rather than poured into moulds. A four ounce bar contained 600 calories. After three days of experiments with blending and processing, Captain Logan gave his approval and a small quantity of four ounce bars was produced. Captain Logan was well pleased with the samples.
The original formula and shape of the ration bar were altered slightly when thiamine hydrochloride was added as a source of Vitamin B1 to prevent beriberi, a disease likely to be encountered in the tropics. These bars were originally called "Logan bars" and later were referred to as Field Ration D.
According to Hinkle, even in the experimental stage it was obvious to the chocolate technologists that sweat and toil, if not blood and tears, lay ahead when the time for quantity production of Field Ration D arrived. Normal chocolate is produced at a flowing consistency when warm and all chocolate machinery is constructed based upon this physical property. The Field Ration D could not flow at any temperature and therefore required the development of special processing methods and machinery.
In June 1937, Hershey Chocolate Corporation undertook the production of 90,000 bars for the Quartermaster Corps. A sufficient number of moulds were built; the chocolate paste was produced according to the formula; and each four-ounce portion was weighed, kneaded, and pressed into the mould by hand. Three weeks were required for production.
The first of the Field Ration D bars were used for field tests in the Philippines, Hawaii, Panama, the Texas border, and at various Army posts and depots throughout the United States. These bars also found their way to Antarctica with Admiral Byrd's last expedition in 1939. The results of the test were satisfactory and Field Ration D was approved for wartime use.
Between 1937 and 1941, at irregular intervals, small contracts were awarded to Hershey Chocolate Corporation for production of this ration. As war became more imminent, it became necessary to develop an automated method of moulding.
World War II Production
After the attack on Pearl Harbor by the Japanese on December 7, 1941, the Quartermaster felt it necessary to protect Field Ration D as well as other rations, from possible damage by poison gas.
New specifications called for the placing of each bar in a heavy cellophane bag, closing the bag by means of a heat seal, inserting this into an individual cardboard carton, securely gluing the carton ends, dipping the cartons in a wax mixture, packing twelve waxed cartons in a master carton, gluing the master cartons top and bottom, packing twelve master cartons in a wooden case, and nailing and steel stripping the case.
Each of these operations had to be carried out with approved materials exactly according to the instruction. Nothing was left to the imagination, not even the type of glue for the cartons nor the ink used in marking the cases. The Quartermaster General, Major General Edmund Gregory, also issued orders that all shipments be coded so that quantities and destinations would be confidential. This resulted in a number of ration packet designations that varied by ordering source.
In 1939, Hershey was able to produce 100,000 units per day. By the end of 1945, production lines on three floors of the plant were producing approximately 24 million units per week. It has been estimated that between 1940 and 1945, over three billion ration units were produced and distributed to soldiers around the world. In addition to the individual bar, Hershey Chocolate produced a three pack of the four ounce bars intended to furnish the individual combat soldier with the 1,800 calorie minimum sustenance recommended each day.
In 1943, the Procurement Division of the Army inquired about the possibility of obtaining a heat resistant chocolate confectionery bar with an improved flavor. After a short period of experimentation, Hershey's Tropical Chocolate Bar in both one and two ounce sizes was added to the list of war production items. This bar was destined to exceed all other items in the tonnage produced and along with the Field Ration D bar, became part of Hershey Chocolate's history. In July of 1971, Hershey's Tropical Chocolate Bar went to the moon with Apollo 15 astronauts.
Receiving the Army-Navy E Award
In recognition of its outstanding war effort Hershey Chocolate Corporation was awarded the Army-Navy 'E' Production Award on August 22, 1942. The Corporation received a flag to fly above the chocolate plant and a lapel pin for every employee. The award was presented for exceeding all production expectations in the manufacturing of an Emergency Field Ration. An honor not easily won nor lightly bestowed, this wartime honor recognized companies that consistently met high standards of quality and quantity in light of available resources.
At the Award ceremony, Major General Gregory noted the company's achievements stating, "The men and women of Hershey Chocolate Corporation have every reason to be proud of their great work in backing up our soldiers on the fighting fronts." By the end of the war in 1945 Hershey Chocolate Corporation would receive a total of five Army-Navy 'E' Awards.
Other Military Contributions
In addition to providing large quantities of Hershey's familiar products for the military, the Corporation produced additional items for the Army, Navy and Marine Corps, including products for the Emergency Accessory Packet, 10-in-1 Ration, Field Ration K, Field Ration C, Life Boat Ration, Air Craft Ration and Prisoner of War package, as well as the Field Ration D and Hershey's Tropical Bar.