"I'll Catch the Next Trolley"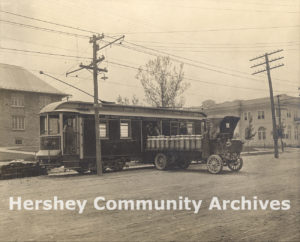 Hershey trolleys played a critical role in the production of Hershey's milk chocolate, delivering each day fresh milk from the region's many dairy farms. Trolleys also played an important role in community life, allowing workers to get to work, children to get to school, as well as allowing friends and family to visit each other. During an era when cars were not widely available, trolleys provided reliable transportation to teenagers and young adults who rode the trolleys to reach shops, movie theaters and popular gathering places.
Much of what we know about the importance of Hershey's trolleys comes from the Archives' oral history collection. Here are some excerpts of interviews where the narrators remember the role the Hershey trolleys played in their lives.
Alma Payne Bobb grew up in Harrisburg, Pennsylvania.
I remember coming to Hershey Park, it must have been the very early days. I was in junior high school in Harrisburg, and it was the custom, every spring, for a class outing. The classes would come down to Hershey Park, and we would ride the old trolley cars from Harrisburg to Hummelstown. Then we would change cars to the center of Hershey. It used to be between the bank and the Cocoa Inn. Then we would walk over to the park.
Trolleys played an important role delivering both milk and workers to the Hershey chocolate factory. Dick Bacastow's family lived on Java Avenue where trolley tracks passed in front of his house.
You'd see these people coming early on the trolley. I was reared on Java Avenue, which was [where] the trolley line came by from Campbelltown and Elizabethtown. You'd see a lot of the workers coming in that way.

True enough, they hauled the milk in the cars which were the freight cars, and then they had the picnic cars in the summertime. It was an interesting era, because you could take a trolley car from Hershey and go all the way to Elizabethtown, from Elizabethtown to Lancaster, Pennsylvania. You could take a trolley from Hershey and you'd go east to Palmyra, to Lebanon, to Reading, Pennsylvania, and you could go west from Hershey to Hummelstown to Harrisburg. So it did feed into the park and then to the people having picnics and so forth. You'd see these picnic cars come with people with [large] clothes baskets loaded with food. They'd be coming for a big weekend.
The trolleys sometimes served the role of a school bus delivering students to school each morning. This was true for both public school students and Milton Hershey School boys.
Flossie Basehore frequently used the trolley to visit her married sister who lived in Hummelstown and ten get to school the next day.
Yes, I loved the trolley. I know the first time I rode on it, I was so scared I wouldn't know where to get off. But my sisters were married and living in Hummelstown and I would ride the trolley from Hershey to Hummelstown. I got on in at the Square. After school, I would sometimes ride the trolley and go to my sister's and spend the night with my sister, then get on it the next day and come back to school on it.

A lot of the kids rode the trolley to school and home again. They used to get tickets because they were regular. I think they even got them free, you know, to ride the trolley from the school, but I paid my way because I was not a regular and I went on my own.
Milton Hershey School (then Hershey Industrial School) students relied on the trolley to get to school each morning. The trolleys were on a schedule and if you were late… well, Charles Snyder, who graduated from the School in 1940 remembered how important it was to be on time.
We were raised on a schedule, a time schedule. We got up at a time, we had to be in the barn on time, we had the cows milked and the milk ready because at a certain time the dairy truck would come around to pick up our milk, and then we had to go in to eat breakfast and come out and do more work in the barn and then come back to the house and cleaned up to go to school, because the trolley car came at ten of eight to pick you up and take you to school. And there were no excuses. I mean, if you missed the trolley car, you had to walk, and you were reprimanded for being late to school, and the fact that you walked in was of no benefit as far as being an excuse for not being there.

Yes, I remember one morning I had to walk. The barn wasn't getting done as fast as it should be, and we were late. We were late getting the barn work done, I don't know what the reason was, but anyway, we were late and some of us missed the trolley car, and I was one of them one morning. It's a long walk from Farm 31 up to Hershey to Pat's Hill.
And for some people, the trolleys were a source of entertainment. Many remember riding the trolleys for the fun of it. Thomas Guinivan had fond memories of his grandmother and riding the trolleys with her.
My grandmother, Grandmother Guinivan, was a person who loved to ride the trolley cars. So she would take me with her and she'd get on the trolley car. We'd get on the trolley car in Harrisburg and ride down to Hummelstown, because there in the square we'd change from the Harrisburg trolley over to the Hershey trolley line. Then she'd ride all the way to Elizabethtown, because you could go that far, and she would come back again.
Gallery
Click image to view larger
Search Encyclopedia