Celebrating Milton Hershey's Birthday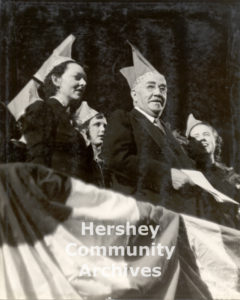 1937 was a tumultuous year in Hershey.
In January the CIO, a national trade union, organized Hershey Chocolate factory workers, establishing the plant's first labor union. In April, the Hershey factory workers held Pennsylvania's first sit-down strike following a breakdown in labor contract negotiations. Though short lived, the strike bitterly divided the town.
As a means of healing some of the pain resulting from the strike, workers organized a 80th birthday celebration for Milton Hershey. Over 8000 people attended the party held at the Hershey Sports Arena on Monday evening, September 13. All the community's bands performed, including both high schools, the American Legion Drum and Bugle Corps and the Community Theatre Orchestra. The speakers' platform was surrounded by flowers, most of which were gifts from community churches and organizations.
The employees presented Milton Hershey with a yellow-gold ring with 18 diamonds encircling a design featuring the Chocolate Corporation's trademark, the baby in a cocoa pod, and a maroon silk lounging robe. The evening festivities included a vaudeville show of top-line entertainment from New York City, refreshments and dancing in the Hershey Park Ballroom.
Gallery
Click image to view larger
Search Encyclopedia