It Can Be Done: Milton Hershey and the Edgar Guest Show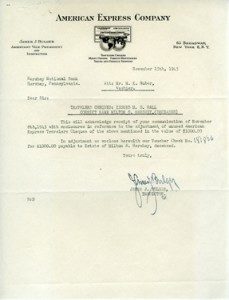 In Hershey, we like to think that all roads lead to our special town. And it is pretty amazing the people who show up here. And if they don't show up here, they want Hershey to come to them.
Milton Hershey was not someone to seek the limelight. In fact, at times he traveled under an assumed name, just to avoid attention. But, at times, he was enticed to share his life and success with others, if only to promote awareness of his home and school for orphan boys.
Edgar A. Guest was one of the most popular verse writers in early 20th century America. Born in England, Guest was a naturalized citizen who spoke on the air with an accent cultivated from the heartland of America. He was unpretentious and projected a "down home" appeal, and Americans rewarded him with commercial success.
During his years on the radio, Edgar Guest presented several different shows. Musical Memories, his earliest series, was 30 minutes of music, readings, and drama. His next show, Welcome Valley, was straight drama. His show featured a distinguished cast that included many who were already or would become radio stars.
His next show, It Can Be Done, was a dramatic departure from the previous formats. Edgar Guest as host, the time-slot, and the sponsor remained, but almost everything else about the show was changed.
It Can Be Done featured inspirational stories and interviews with people who had triumphed in their chosen fields despite hardship and adversity.
Milton Hershey was a natural subject for such a show. On June 8, 1938, Milton Hershey traveled to Chicago to be the focus of that night's episode of It Can Be Done. The episode opened with a dramatization of Milton Hershey's life, with its financial struggles and ultimate success. The last portion of the show featured an interview with Milton Hershey himself. Milton Hershey answered questions with prepared answers. The interview focused on the work of the Hershey Industrial School (Milton Hershey School) and lauded Milton Hershey's achievements.
While the content of the interview doesn't offer much new, in terms of information, it is a rare opportunity to actually hear Milton Hershey's voice. You can listen to an excerpt from the interview for yourself.
Want to know more? The full transcript is available at the Archives.