Looking Back: Hershey Chocolate Products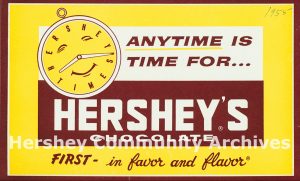 Hershey's Milk Chocolate is one of the great iconic American products. Introduced in 1900, it has delighted generations of candy lovers.
Not all products are so successful. This week's blog post takes a look at some of Hershey's less successful products that were introduced with high hopes, only to be discontinued a few years (or months!) later because the public didn't embrace the new confection, or manufacturing costs were too high or the product turned out to have some other challenge.
During the 1930s, Hershey Chocolate introduced a number of new products, including Krackel, Not-So-Sweet (a forerunner of Hershey's Special Dark) and Hershey's Miniatures. Other products were not so successful.
Hershey's Mild and Mellow milk chocolate was introduced in early 1934. Developed to appeal to people who enjoyed a more milky, European style chocolate, it remained in production until the end of 1941. The United States' entry in to World War II and Hershey's need to reduce its product line because of sugar rationing forced the elimination of the Mild and Mellow bar. It was not reintroduced after the end of the war. However, in 1989 Hershey Chocolate introduced Hershey's Symphony. The new product featured a milder, more milky style of milk chocolate. Twenty-five years later,  Hershey's Symphony milk chocolate is an important part of the company's product line.
During the 1930s, Hershey Chocolate Corporation experimented with a partnership with the British confectionery firm, Rowntree. In 1934 Hershey acquired the right to manufacture and market a new Rowntree products: the Aero bar.
Unfortunately, manufacturing the Aero bar was not easy. It involved placing the still liquid chocolate bars into a chamber where the air could be vacuumed out. The process caused the chocolate to form tiny air bubbles that gave the bar its characteristic wafer appearance. Too many problems with manufacturing and not enough sales resulted in the bar being discontinued in May 1939.
In 1938 Hershey again entered an agreement with Rowntree to produce and market another bar: the Biscrisp bar.
The Biscrisp bar also presented several manufacturing challenges for Hershey. It was difficult to make the wafers that were enrobed by chocolate. American wheat flour is different than British flour and that affected the quality of the wafers. Even though Americans loved the product, it was discontinued the following year.
If the image of the Biscrisp bar looks familiar, that is because, in England, the bar was called Kit Kat. In 1969, Hershey again entered into a licensing agreement with Rowntree (now Rowntree Macintosh, Ltd.) to manufacture and market the candy bar. This time, Rowntree supplied technical support to help Hershey learn the intricacies of wafer baking and bar production. Today Hershey's Kit Kat bar continue to be a popular confection in the company's product line.
Gallery
Click image to view larger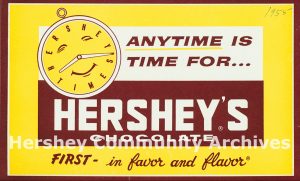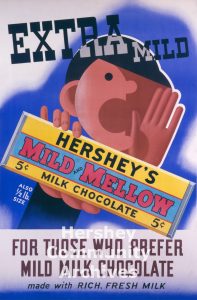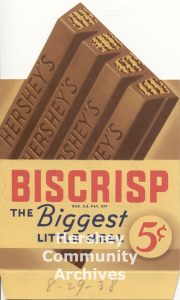 Search Encyclopedia