M.S. Hershey Consolidated School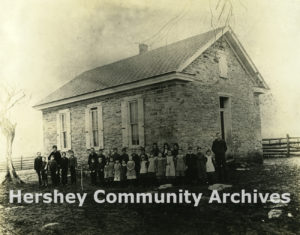 This week, thousands of Derry Township students returned to school, something that children have been doing in this township since the 1800s.
"Tis education forms the common mind
Just as the twig is bent, the tree's inclined"
– Alexander Pope, British poet, 1732
This quote comes from the Hershey Press. It was part of an editorial published July 9, 1914. The editorial was praising the completion of a new school building for Hershey, the M.S. Hershey Consolidated School, that would open that fall. The addition of the Consolidated School was a remarkable accomplishment for a town only 11 years old. And it was all due to Milton Hershey's vision for his model community.
When Milton Hershey returned to Derry Township to begin construction of his  chocolate factory, 14 one-room schools dotted the township. During the 19th century, in rural areas like Derry Township, education was limited to one-room schoolhouses. Milton Hershey, who spent part of his childhood here, attended 3 of those schoolhouses as a young boy. The short school year and Milton Hershey's lack of interest resulted in a very uneven education. His experience was not unusual.
By the time Milton Hershey was an adult and developing his new town, he knew that the future success of his model community would depend upon the success of future generations of residents. He recognized that investing in public education was key to that success.
His commitment to public education began even before the Hershey Chocolate factory was completed. In 1904 he donated land and money to the Derry Township School District to encourage them to build a high school for his new community (even though he couldn't know for certain how many children would be available to attend). It was a gamble.
But Milton Hershey's dreams for his community became real and the town grew. The numbers of students increased rapidly. The first school building, McKinley School, consolidated 4 one-room schools and established a formal high school program. The School District quickly outgrew the building.
In 1911 McKinley School was enlarged. By 1912 it was clear that a new school building was needed. The growth of the community and the student population provided Milton Hershey with an opportunity to implement an innovative educational program.
Gallery
Click image to view larger
Search Encyclopedia