William F.R. Murrie, 1873-1950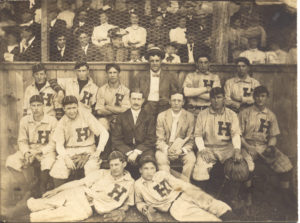 Introduction
Born 1873, William F.R. Murrie started his work career at age 16 as a telegraph apprentice. Despite his rapid advancement to train dispatcher, Murrie soon became bored with railroad life and went to work for Weaver and Costello, a Pittsburgh confectionery firm. Within a couple years Murrie, not yet 23, became the top salesman of the firm.
Milton Hershey first met Bill Murrie in Pittsburgh in 1895. He was immediately impressed by the young man's intelligence and ambition. In 1896 he hired him as a salesman for his new chocolate business. The story is told that in the first week, Murrie, as salesman, oversold the factory. Mr. Hershey is reported to have said: "If this man is good enough to oversell the plant, I want him in here to run the business." Murrie came in from the road and became General Manager.
Murrie played a significant role in Milton Hershey's personal life as well. Traveling with Milton Hershey making sales calls for the Hershey Chocolate Company, Murrie was with Milton Hershey when he met Catherine Sweeney in Jamestown, New York. Afterwards Murrie at times played messenger during his employer's year and half long courtship.
At a double desk, first in Lancaster and later in Hershey, Milton Hershey and Bill Murrie worked side by side building the chocolate business. Murrie became President of the Hershey Chocolate Company in 1908 when the company was incorporated. He continued as President until his retirement in 1947.
Murrie was a strapping, handsome, dignified, tall (6'1″) towheaded Scotsman. His frugality was legendary. While Murrie was a tight man with a dollar, his wife quietly established a reputation as one of the most charitable people ever to live in Hershey. Throughout the Depression, when the pantries or coal bins of people in town were empty, deliveries of groceries or coal would mysteriously be made, at no charge to the recipient. The bills were quietly paid by Maitland Murrie, with no one's knowledge.
Murrie also had a reputation for extreme punctuality. Every morning, after having been chauffeured 150 yards from his home to the Chocolate Company offices, he would arrive at his desk at precisely 8:03 am. The extra three minutes were spent standing at the front door checking to see who was getting to work late.
In the 1920s, Murrie became intrigued with the idea of selling a chocolate bar containing peanuts. Milton Hershey was dubious but gave the go ahead, provided the Hershey name was not associated with the new product. Mr. Goodbar was successfully introduced in 1925 under the fictitious sponsorship of the Chocolate Sales Corporation.
The Story of M&Ms
Though Murrie stopped serving as Sales Manager in 1908, he retained responsibility for major industrial customers: Mars, Peter Paul, and Reynolds Tobacco. His relationship with Mars resulted in a new relationship between the companies during the pre-World War II years. Shortly before the war, Forrest Mars, the son of Frank Mars, owner of the Mars Candy Company, was interested in marketing a new chocolate product. Forrest anticipated a chocolate shortage developing during the pending war. Forrest Mars teamed up with Bill Murrie's son Bruce to ensure a supply of scarce chocolate for their new product: M&Ms (for Mars and Murrie) during the war years. After wartime quotas ended in 1948, Forrest Mars maneuvered Bruce out of the partnership and went on to become Hershey's largest competitor.
William F.R. Murrie's success with the Hershey Chocolate Company was substantial. The Company's annual sales increased from $600,000 when he became General Manager in 1897 to $120 million per year when he retired. Murrie successfully implemented what Milton Hershey invented, leaving Milton Hershey free to build the town and start the School.