The Nickel Ride: Hershey's Trolley System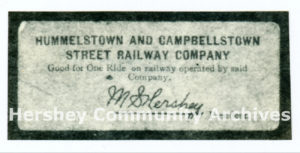 When Milton Hershey returned to Derry Township to build his new chocolate factory, he returned to a largely rural area, dotted with small cross-roads communities that were tied together with dirt roads that were often little more than paths. Mr. Hershey knew that he would need to invest in developing the infrastructure of his new town. He needed to establish utility businesses to provide water, electricity, telephone access and handle sewage. Housing would have to be built, schools improved and a variety of shops set up. New roads were needed to tie the new community of Hershey to the surrounding towns.
Milton Hershey wanted to provide easy access to his model town and more importantly he needed to make sure that fresh milk, a critical ingredient in making milk chocolate, could be delivered to the chocolate factory in a timely fashion. His solution was to establish the Hummelstown and Campbelltown Street Railway Company. Chartered in January 1903, even before workers broke ground for the new factory, the new line connected Hershey with its closest neighbors, Hummelstown and Campbelltown. The initial line was twelve miles long and built by J.G. Brill Company, of Philadelphia. The original line passed through several dairy farms, making it easy for farmers to have their milk picked up each day for delivery to the Hershey chocolate factory.
Hershey's street cars had their maiden voyage on October 15, 1904. This original line was soon extended eastward towards Palmyra to connect with a line running westward from the Lebanon and Annville Street Railway.
A year later, in 1905, the town of Hershey was growing rapidly and Hershey's trolley line was extended to Hummelstown where passengers could change street cars and connect with trolley service to Harrisburg.
Hershey's streetcars connected the community with surrounding communities. Hershey trolleys made it possible for people to live elsewhere and work in Hershey. The trolleys allowed Hershey residents to easily travel out of town for shopping and other reasons. The trolleys also played an important role bringing visitors to Hershey's many attractions. The Hershey transit system was a pet project for Milton Hershey. Heavy subsidies kept the basic fare at $.05. Mr. Hershey enjoyed riding the trolley to observe for himself how many employees were making use of the trolleys.
Gallery
Click image to view larger
Search Encyclopedia