Skating for the Gold: 1953 United States Figure Skating Championship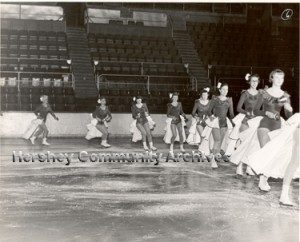 What's not to love about ice skating? One of the highlights for me while watching the Winter Olympics is all the figure skating. I love the beauty and creativity and greatly admire the athleticism needed to make it look so graceful.
Hershey also loves figure skating. The sport has been an important sport in Hershey since the Hershey Skating Club was established in 1934. Over the years, well-known figure skaters, including Roy Shipstad, Evelyn Chandler and Bruce Mapes have come to Hershey to work with the Skating Club and to perform in the Ice Arena.
In 1953, Hershey's impressive facilities made it possible for the Hershey Skating Club to host the National Figure Skating Championships, often referred to as the "Nationals."  Usually the competition is held in major cities with facilities and enough lodging to host the hundreds of skaters, their coaches and family members, over the four day event.  While Hershey was a small town, it was well acquainted with hosting large-scale events.  The competition brought national attention to the small community.
That year, the men's competition was won by Hayes Alan Jenkins, who would go on to lead American male skating for four years, 1953-1956. He also would win the gold medal in the 1956 Winter Olympics.
In the women's competition, Tenley Albright continued her reign as the leading female skater in the United States, having first won the Nationals in 1952. Her reign would continue through 1956. That year she also would also win Olympic gold.
More information about the Hershey Figure Skating Club is available at the Archives.
Gallery
Click image to view larger
Search Encyclopedia