Summer Fun: Hershey Park Swimming Pools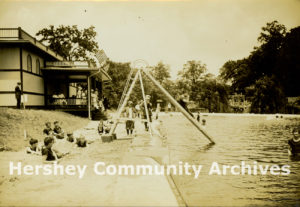 Hershey Park's first concrete swimming pool was added in 1911. Completed in the fall, the pool served as an ice skating rink that winter and opened for its first swimming season in 1912. The pool was a popular destination and attracted 1000s of visitors both as users and spectators. A few years later the pool was enlarged and a water toboggan feature was added. To ride the toboggan swimmers carried wooden "sleds" to the top of a long wooden slide and rode the sled down to splash in the pool below. The ride was so fast that riders hydro-planed for several yards before sinking into the water.
A new expansive pool complex was added in 1929. The new Hershey Park Pool was actually 4 pools: a circular baby pool, a diving pool, a swimming pool and a wading pool. A concrete island separated the swimming pool from the wading pool. Altogether the pools covered 35,000 square feet and contained 1,240,000 gallons of filtered spring water. Admission fee for adults was 25 cents (10 cents for children). If you didn't have one you could rent a bathing suit at the pool bathhouse.
By the 1940s over 100,000 people visited the pool each summer. Many long time residents have very fond memories of the Park Pool. Young men remember the pool as a wonderful place to bring a date if you didn't have much money. The pool was located right next to the Ballroom. From the pool, you could hear all the great bands that played at the Ballroom, such as Jimmy Dorsey, Glenn Miller, and Harry James. The Pool was closed following the 1971 summer season.
Today, the area where the pool was located is being transformed into Hersheypark's newest themed area, Chocolatetown, which is scheduled to open in 2020.
Gallery
Click image to view larger
Search Encyclopedia