Hershey's YMCA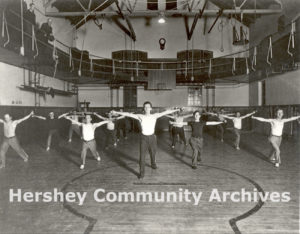 The Y.M.C.A. [Young Men's Christian Association] was first established in London, England in 1844, in response to poor living conditions resulting from the industrial revolution. The goal of the organization was the "improvement of the spiritual, mental, social and physical condition of young men." YMCAs quickly spread to the United States. A chapter was established in Harrisburg in 1854 and in Lancaster in 1859.
The Hershey Chocolate Factory had only been open four years when Milton Hershey proposed organizing a YMCA in Hershey. The Cocoa House, located at the intersection of Chocolate and Cocoa Avenues, was expanded with the construction of a gymnasium, sixty by ninety feet. It included a mezzanine level running track that encircled the gym, which was also used as a spectator gallery for basketball games. A large swimming pool, locker rooms, and showers were constructed in the basement. The new addition also included a game room, with billiard tables, pool tables and a shuffleboard.
Hershey's new newspaper, Hershey Press, heavily promoted the new organization, running front page stories about YMCAs almost every week during the fall of 1909. By December 17 the paper listed 85 people as the first members of the new organization. The "Y" officially opened February 3, 1910 with an open house and lecture.
YMCA quickly became an important part of Hershey's recreational and cultural life. True to the national organization's commitment to encourage the development of men's body, minds and spirit, the Hershey "Y" offered a variety of exercise programs and organized a variety of sports teams, including basketball, football and baseball teams. It hosted lectures and performances for the community. The "Y" also offered boarding rooms for single men and housed a reading room.
In 1914 the Hershey discontinued its association with the national YMCA. The program was reorganized as the Hershey's Men's Club which continued the programs of the "Y" but operated as an independent organization.